Domestic vintage sewing machines are not only precision pieces of workmanship, they are also true works of art, MCM at its finest.
On this website you will find information, pictures and free pdf manuals of machines in my collection. These are grouped into Pinnock, European machines, Singer machines, Japanese 1950s & 1960s machines and early domestic Overlocker /Sergers.
Many of the machines on these pages have gone through, one, two, three or even more generations of families. These well-made, all metal machines, will still be going strong, when I am no longer here. Part of the beauty of these machines is to cherish them as others have done before. Call me what you will, collector, custodian or even curator.
Pinnock Australian sewing machines.
European vintage and antique sewing machines.
Singer vintage and antique sewing machines.
Japanese 1950s & 1960s machines.
Japanese Domestic Overlockers Sergers.
Free PDF manuals for download.
FREE SEWING MACHINE MANUALS….Any instruction manual or interesting documents that I find, I scan and upload to my google drive. Feel free to use any of the documents here for your own use. Please DO NOT on-sell this information or booklets, this information should be FREE for all to use.
About my collection and how this page began.
As my collection grows, so too has this website. It now includes information not only on Pinnock, but on other Vintage sewing machines found in and around Melbourne, Australia, in recent years.
This page started as a way to document the Japanese made, Australian branded Pinnock Fridor Sewing machine of the mid 1900s. Including information on the Toyota models, the Trendsetter Toyota models, the later CFM Japanese models and the Dutch Fridor.
From my limited knowledge the Pinnock Sewing Machine was manufactured in Australia at the Lithgow Small Arms Factory from 1949 to 1954, only 6000 were made. It is an iconic Australian sewing machine. You can find more information about the factory here Lithgow Small Arms Factory Museum (lithgowsafmuseum.org.au). You can see one of these machines also in Melbourne at Anne Bonny's locker, 392 Burwood rd, Hawthorn, Melbourne, Australia. This page is not about this earlier Pinnock, is about the Pinnock machines that came after, the ones imported from Japan (and Holland) in the 1950s and 1960s.
More information is always welcome.
Pinnock sewing machine information here may or may not be accurate, or up to date, it is based on my collection of machines and the information I have managed to glean from archives. Such as Trove Home – Trove (nla.gov.au), other websites, social media pages and from the information from other collectors. If you would like to learn more about these machines, please check out my Links page for more sources of online information and resources.
Do you have more information on Pinnock? I would love to hear from you. If you own a Pinnock manual that I don't already have on my Instruction book page and you are willing to share with other Pinnock collectors, please contact me.
My favourite machines.
How my love of sewing machines began:
This Elna Sapphire was purchased new in 1981, by my mother. It is the machine I have used the most for the last 40 years and it is still going strong. It is still one of the most modern machines that I have documented here on this website.
As of 2023, the 4 machines below are my main machines. 2 Japanese and 2 Swiss.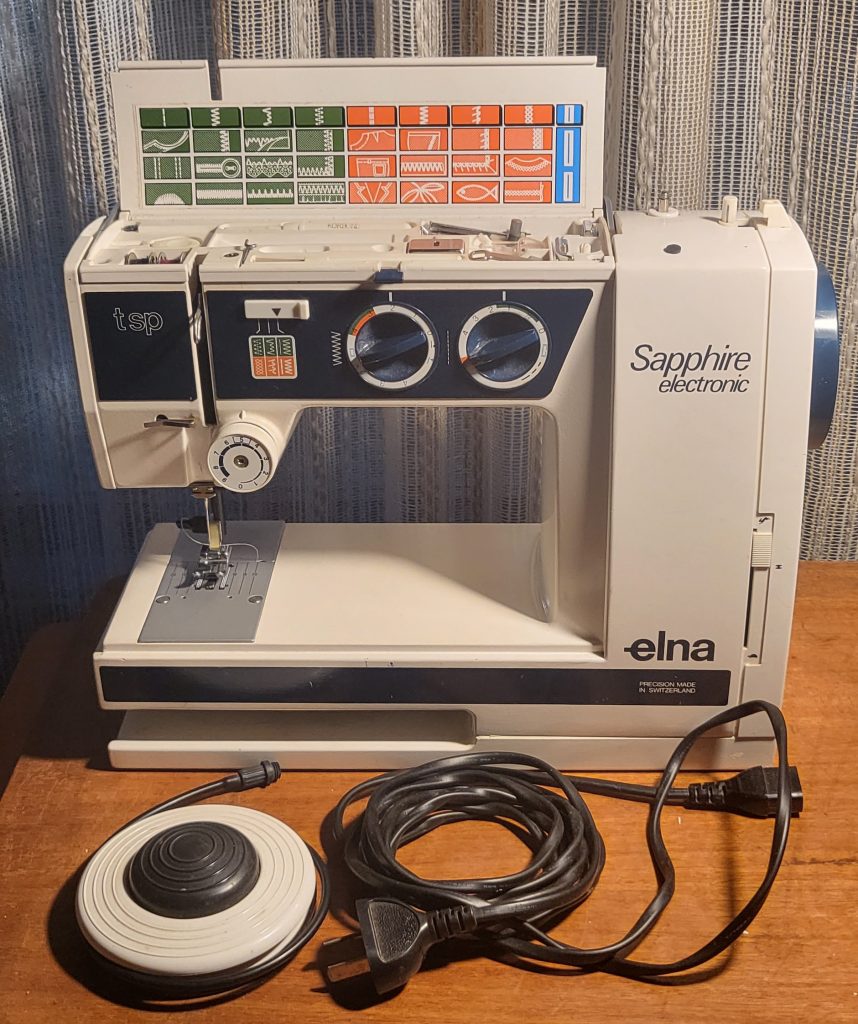 ---
Recent updates .
04 August 2023: Industrial Singer 103K and Singer 96K49.
01 August 2023: LSAF Lithgow Small Arms Factory – Pinnock and how to identify a Lithgow Australian Sewing machine.
18 July 2023: Anker RZ-K Multi Automatic page added.
10 July 2023: Jones c.s and Pinnock 2 Overlocker and Necchi Supernova Free-arm pages added.
28 June 2023: More free pdf Bernina 1960s and 1970s booklets added to the Bernina free booklet page.
13 June 2023: Husqvarna 2000, 6460 page added. Pinnock Trendsetter Ensign page added.
24 May 2023: Elnas added-Elna 5000 computer. ——- Elna Lotus.——- Elna Sapphire. ——- Elna Overlocker MO-103
17 May 2023: Singer 222k page added.
14 April 2023: Anker Phoenix 388 Duplomatic. page added.
06 March 2023: Lemair Helvetia Valiant 930, a Brother sewing machine.
01 March 2023: Husqvarna Automatica CI 21, work in progress.
28 February 2023: Anker Phoenix Gloria another rescue machine with an unhappy result.
27 February 2023: Pinnock Royal cams identified. Page updated and cams shown.
10 February 2023: Bernina vintage booklets page added, free PDF download available for these beautiful 1960s books.
06 February 2023: Bernina 730 page added.
01 February 2023: Pinnock 1 Overlocker, CFM, 3 thread Page updated and manual added.
20 January 2023: Pinnock Sewbest updated with a second machine. Bernina 700 page added.
13 January 2023: Trendsetter Royal added, finally another Pinnock in my collection.
07 January 2023: Bernina 117L page added.
03 January 2023: Tailor-bird portable hand crank.
01 January 2023: Singer 320k and Bernina 121 added.
01 December 2022: More overlockers added, see my Main Overlocker Serger page. More being added all the time.
20 November 2022: Overlockers Baby lock EA-605.
10 November 2022: Pinnock Overlocker, CFM, 4 thread.
09 November 2022: My 3rd Anker RZ, this time its green, added to the bottom of my Anker RZ page.
05 November 2022: Introducing my first Husqvarna machine, SM14 Zig Zag, another small freearm.
01 November 2022: Japanese machines from the 1950s and 1960s page added.
31 October 2022: Introducing my new Pfaff 130 treadle.
29 October 2022: Introducing my new and very hard to find Pinnock Sewbest.
29 October 2022: The Pinnock Japanese 1960s with many names.
28 October 2022: Pinnock trendsetter Star page updated with the manual now available free in PDF.
23 September 2022: Singer VSMs, my collection, starting with my Fiddlebases.
06 August 2022: Necchi Supernova page added.
01 August 2022: Cow shed find, another Anker RZ added to the bottom of my Anker RZ page.
18 July 2022: Gritzner VZ instruction book and information added to bottom of Gritzner page.
08 July 2022: Introducing my new Black 282 Phoenix and my Green 283 Phoenix automatic
20 June 2022: Introducing my new 1925 Adler Klasse 8.
14 June 2022: Introducing my new Gritzner VZ automatic.
02 June 2022: Introducing my new 1947 Elna Grasshopper.
30 May 2022: Introducing my new Anker RZ.
19 May 2022: Fridor Stitchmaster manual added.
16 May 2022: Fridor page updated with Freearm zigzag and cams images.
04 May 2022: Archive newspaper and magazine adverts added to bottom of the Fridor free arm page.
03 May 2022: Archive newspaper and magazine ads added to the bottom of all the Trendsetter pages.
01 May 2022: New home Model J page updated, other VSMs, Elna Grasshopper clone.
29 April 2022: Morse advertising posters added to the Advertising page.
26 April 2022: Pinnock Trendsetter Gem page added. Pinnock Trendsetter Modern page added. Accessories and attachments page added.
25 April 2022: Pinnock Trendsetter Star page added.
20 April 2022: Pinnock vs Morse a photographic comparison page added. Trendsetter Jewel page added.
17 April 2022: Fridor page updated.
16 April 2022: Trendsetter page updated. Sewmatic page updated with pink machine at bottom of page. Sewmaster page updated with pink machine at bottom of page.
04 April 2022: Pinnock Jewel Mark III to Trendsetter page.
27 March 2022: Pinnock Trendsetter Sapphire page added.
25 March 2022: Pages added to Other VSMs, FAVTA, HALVENA and NEW HOME.
22 March 2022: Toyota Pinnock Sewmaster page added.
20 March 2022: Instruction book added Sewqueen Pinnock.
Earlier in March 2022: Pages added under Toyota Pinnock, Seweasy, Sewmatic.