Clearance auction June 2023. 82cm x 62cm plus frame. Kamasan painting on cloth. Signed on back. Agung Raka. Kerta Gosa Taman, Gili Klungkung Bali Indonesia.
Framed in Melbourne, pre 1996, as the framers sticker does not have the extra code "9" that was introduced in 1996 to telephone numbers in Melbourne.
Possibly depicting a war in the Mahabharata, the Kurukshetra War.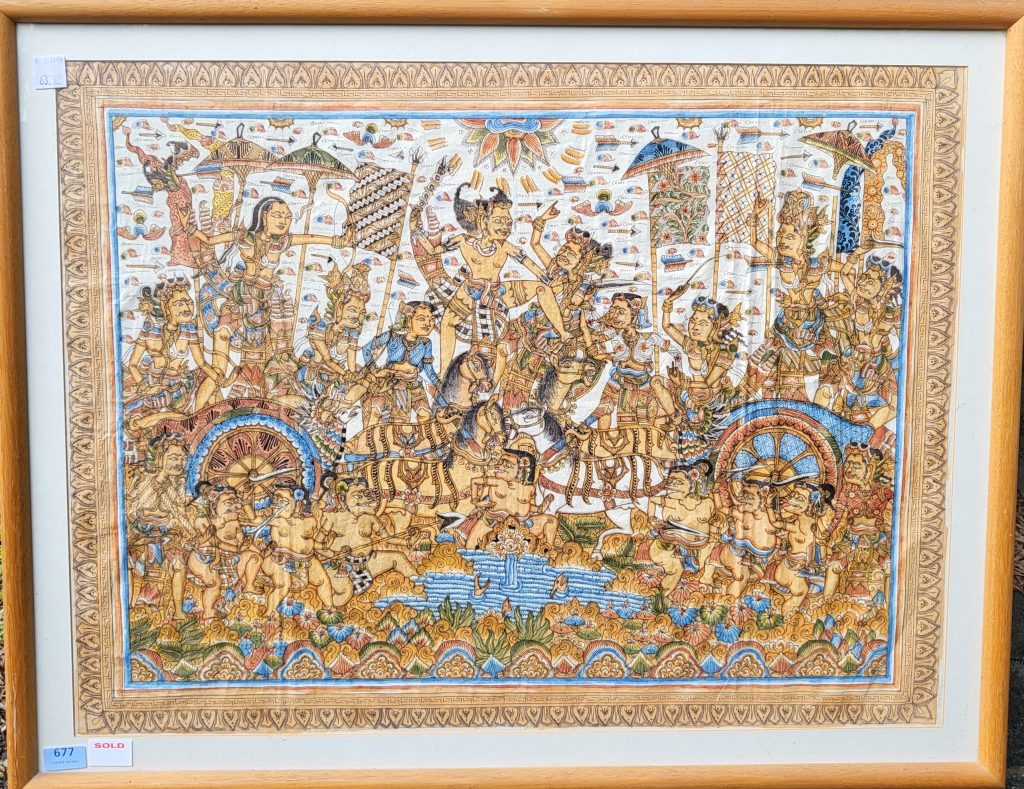 Again, back at my favourite auction house, no one else bid on this. So, it was all mine for the opening bid. It has been poorly framed, not stretched, just placed between glass and backboard and border held in place by 3 drops of glue. It has vibrant colours that remind me more of my Mangku Muriati painting. The style and borders remind me of my Pan Rumiasih paintings. The auction listed it as without signature, but when I took it out of the frame, I found a printed signature in the top left corner and an actual signature in the top right corner. It looks like it was stored at one point as it still has crease marks, but I am sure these would not be visible if it was framed properly.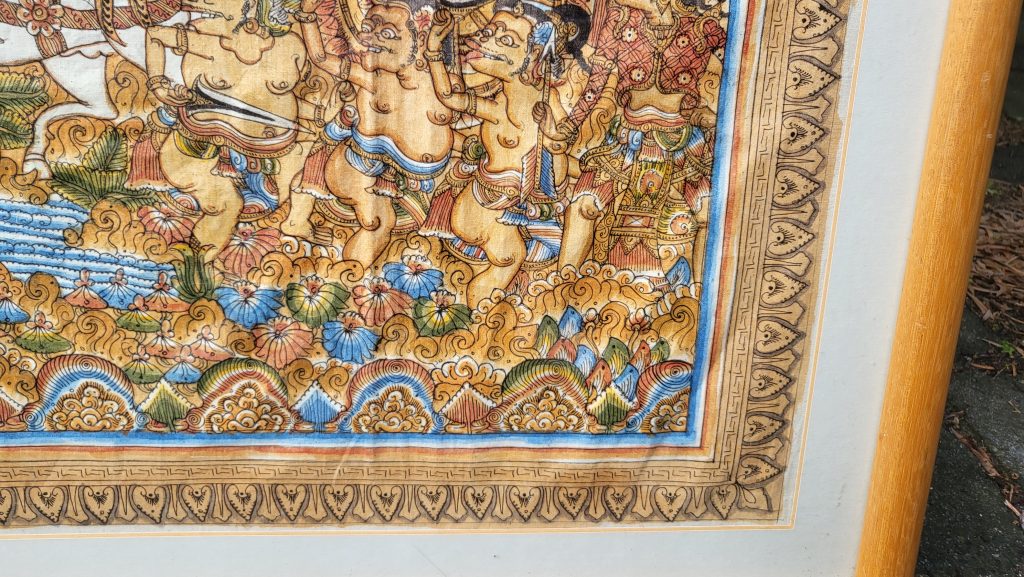 Could this painting above be also a scene from Mahabharata depicting the battle between Pandawa's and Korawa's with Arjuna and Drona. It is very similar to those below.
Surprising similar to this unknown painting. Same artist or same Kamasan art school? Image found online from a completed auction.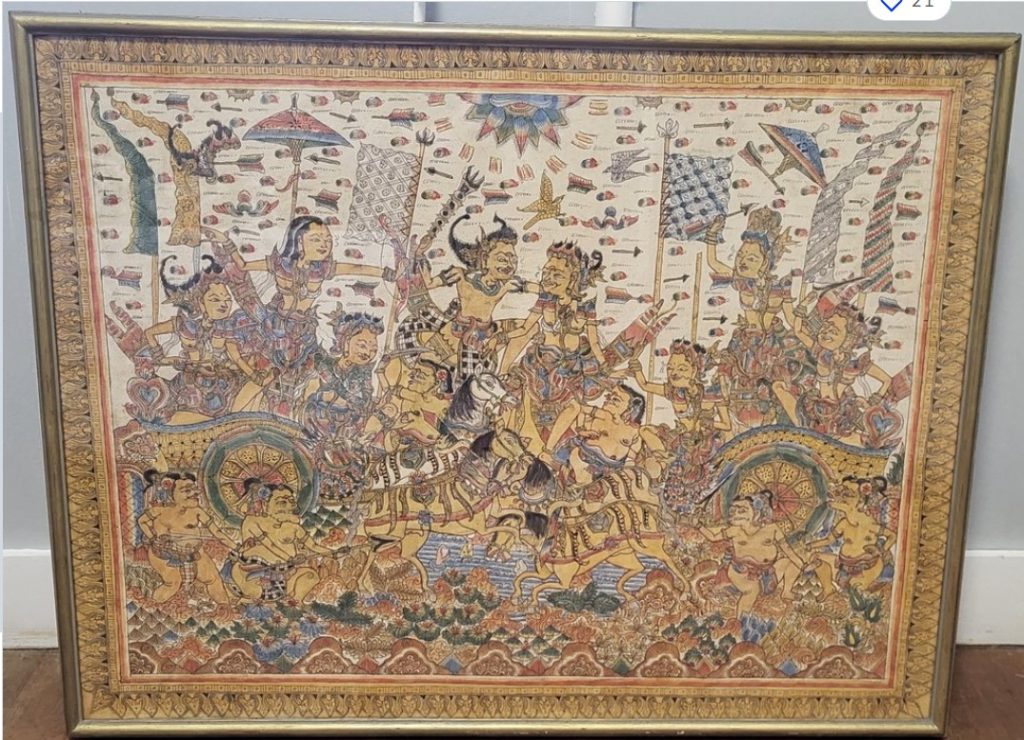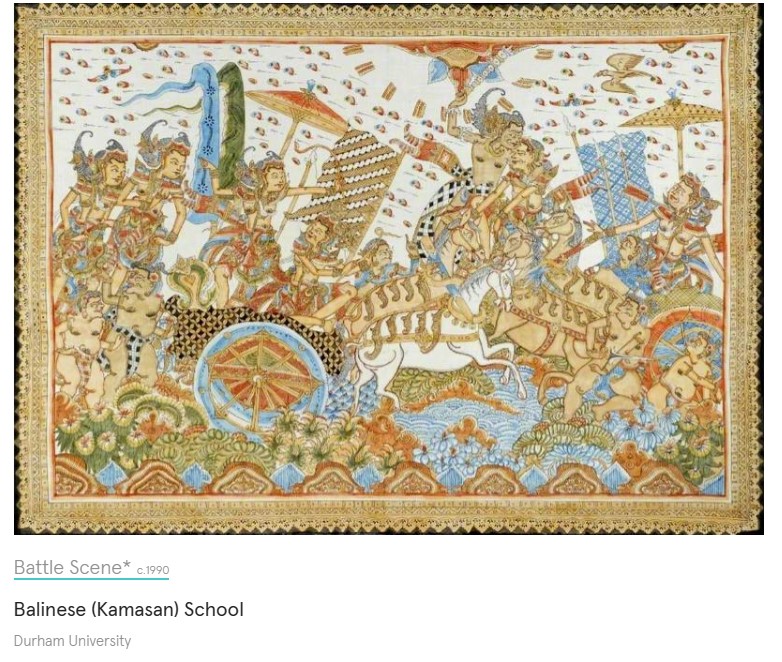 The Kurukshetra War is a mythological war described in the Indian epic Mahabharata as a conflict that arose from a dynastic succession struggle between two groups of cousins of an Indo-Aryan kingdom called Kuru, the Kauravas and Pandavas, for the throne of Hastinapura. It involved a number of ancient kingdoms participating as allies of the rival groups.
Indonesia – Bali – Episode Of Mahabharata Epos – 2b | Flickr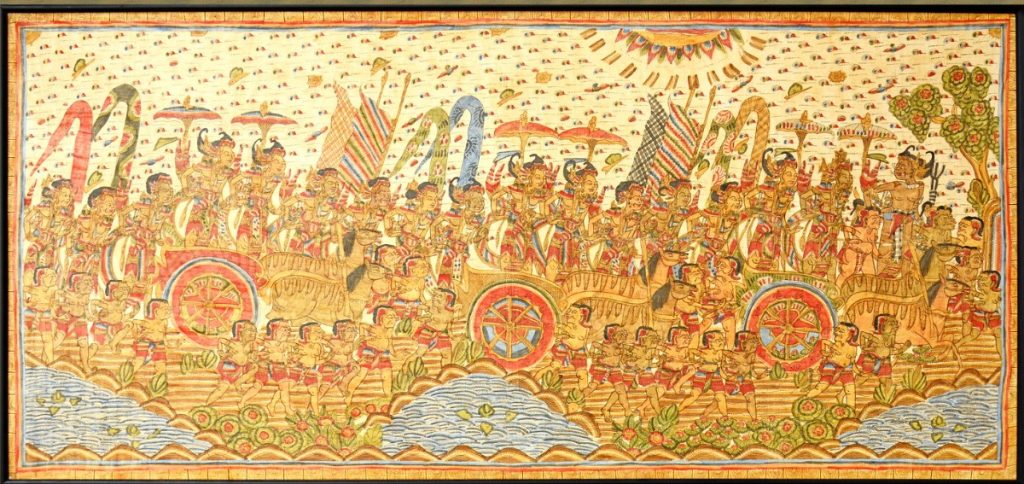 I can't recall where I found this image.
---