Introduction to my Balinese painting collection.
In 2022, I purchased a painting at auction. No one else put in a bid. Little did I know that it was painted by a famous Balinese painter, Mangku Mura. I returned this painting to his daughter, Mangku Muriati, in the town of Klungkung in East Bali. Mangku Muriati is an artist in her own right and I had the privilege of meeting her and purchasing one of her paintings. My interest in Balinese paintings began with my chance encounter with this famous family. Below are the Balinese paintings in my collection, some Kamasan, some more modern, more than likely all are produced for the tourist market and hold no monetary value, but I just love the style and plan to collect more if they become available..
If you have any information on any of these works, please reach out to me, I am always keen to learn more. I am not too concerned with value. I collect what I can afford and what I love. There are many paintings on the market that are just beautiful, but well out of my price range. The pieces in my collection are my "budget" paintings. Paintings created in Bali for the tourist market to be brought back by the thousands of Aussies that have been visiting the "Islands of the Gods" for many decades.
In July 2022 I purchased this painting from an auction house in Melbourne. It measures 121cm x 147cm.
It was the catalyst for my love of Kamasan paintings. It turned out to be an original painting by the master Mangku Mura, as confirmed by his daughter. I returned this painting to his daughter, Mangku Muriati, in September 2022.
IMAGE right : Original Mangku Mura painting, circa 1970s.
To see more photos of this artwork please visit my Mangku Mura page.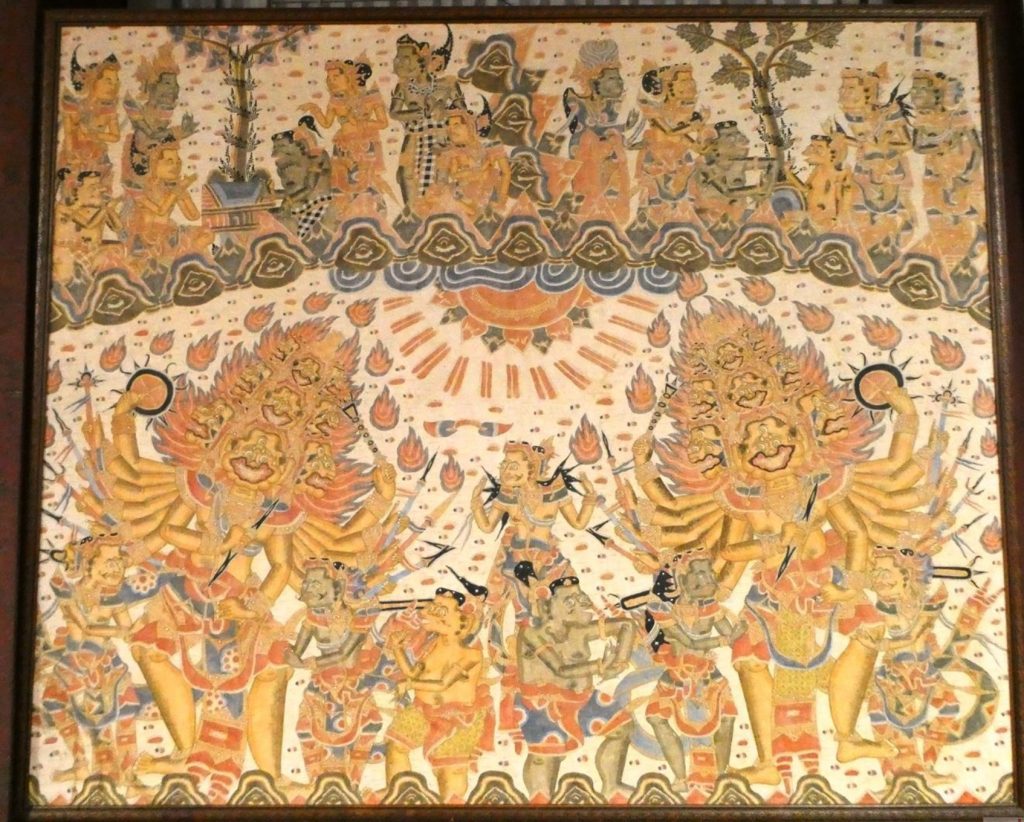 More information on Mangku Mura the artist can be found at Mangku Mura, Balinese Artist – The Australian Museum
---
In September 2022 on a trip to Bali, I met the beautiful artist Mangku Muriati and her sister, in the area of Klungkung.
I returned to her, her fathers painting (see above) and she was kind enough to invite me into her home and agreed to sell me one of her own paintings.
IMAGE right: Here Mangku Muriati is explaining the story behind her painting, that I took home with me.
To see more of this meeting with Manku Muriati and her paintings, please visit my Mangku Muriati page.
More information on Mangku Muriati can be found at Mangku Muriati – The Australian Museum
---
Kamasan, Batuan, traditional and modern Balinese art in my collection.
My chance encounter with a Kamasan masterpiece led me on a journey to Bali and a love of Balinese paintings. One thing led to another and without realising it I was researching Balinese paintings. I began to actively seek out any inexpensive painting I could find in my local area. The range of "tourist" paintings is broad, many do not appeal to me, but every now and again a painting will turn up that ticks all my boxes. If a piece is within my small budget and within easy travelling distance, I try to add it to my collection. Fortunately for me Balinese paintings of unknown artist and unknown date pop up quite often here in Melbourne. Below are some of the paintings now in my collection. Most probably brought back by tourists over the years.
---
July 2022, in the same auction as the above Manku Mura original painting, there were 5 other Kamasan paintings. These I also acquired on the day. Mangku Muriati told me that these were painted by other artists in her local area and painted in a more "modern" style. Possibly circa 1980s or later.
To see the gallery of these five paintings please visit my Pan Rumiasih page.
Included are an unsigned Tabing Plintangan 35 day Calendar, an Unsigned Tabing – Arjuna Wiwaha : Arjuna Metapa (ARJUNA'S MEDITATION) and three signed paintings from the Ramayana.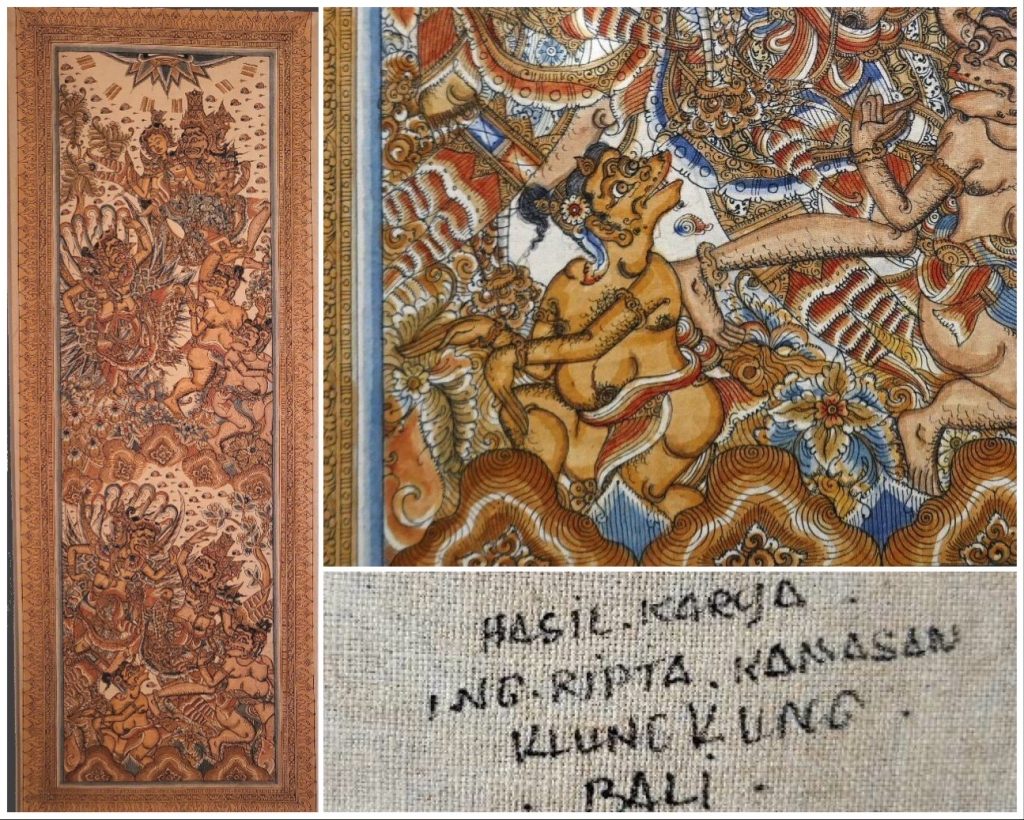 ---
May 2023. Another clearance sale auction. Once again, I was the only bidder. Large painting on cloth, 115cm x 68cm, framed in Singapore. I have no provenance on this painting or its origins.
To see the gallery of more photographs of this painting, please visit my Gandra page.
---
May 2023, this painting was advertised on FB marketplace. It measures 100cm x 80cm. It is a painting on cloth and has been framed with a backboard.
The seller told me she purchased the painting approx. 45 years ago in the late 1970s or early 1980s in Bali and the frame was the original hand carved wood frame.
To see the gallery of more photographs of this painting, please visit my Agung Rai page.
---
An ebay purchase late 2022. Measures approx 40cm x 60cm. Ink and paint on canvas. I can't make out the signature exactly. Hopefully in time I will identify this artist.
To see the gallery of more photographs of this painting, please visit my B&W Gaya page.
---
Clearance auction June 2023. 82cm x 62cm plus frame. Kamasan paiting on cloth. Signed on back. Agung Raka. Kerta Gosa Taman, Gili Klung Kung Bali Indonesia.
Framed in Melbourne, pre 1996.
Possibly depicting a Kurukshetra war in the Mahabharata
To see more images of this painting, please go to my Agung Raka page.
---
Found in June 2023 on Facebook Marketplace. Small painting only measures 52cm x 26cm.
It sat unsold for many weeks, until the price came down to practically nothing, so I decided to rescue it. Signed on bottom left, I Nyoman Dewa? Batuan, Bali. Even though the Dana is hard to read and the Bali has been cut off.
To see more images of this painting, please go to my I Nyoman Dewa page.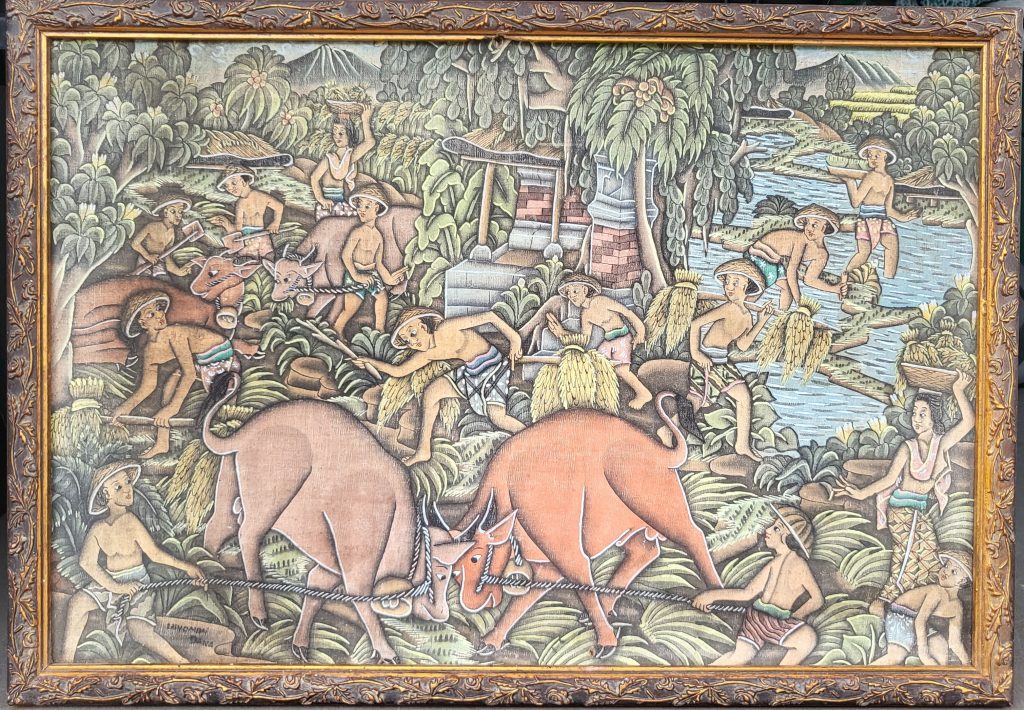 ---
Two paintings found in the same auction July 2023. I cannot make out the signature on the Oil. I can see however it is signed Ubud, Bali. The ink on paper under glass is signed twice!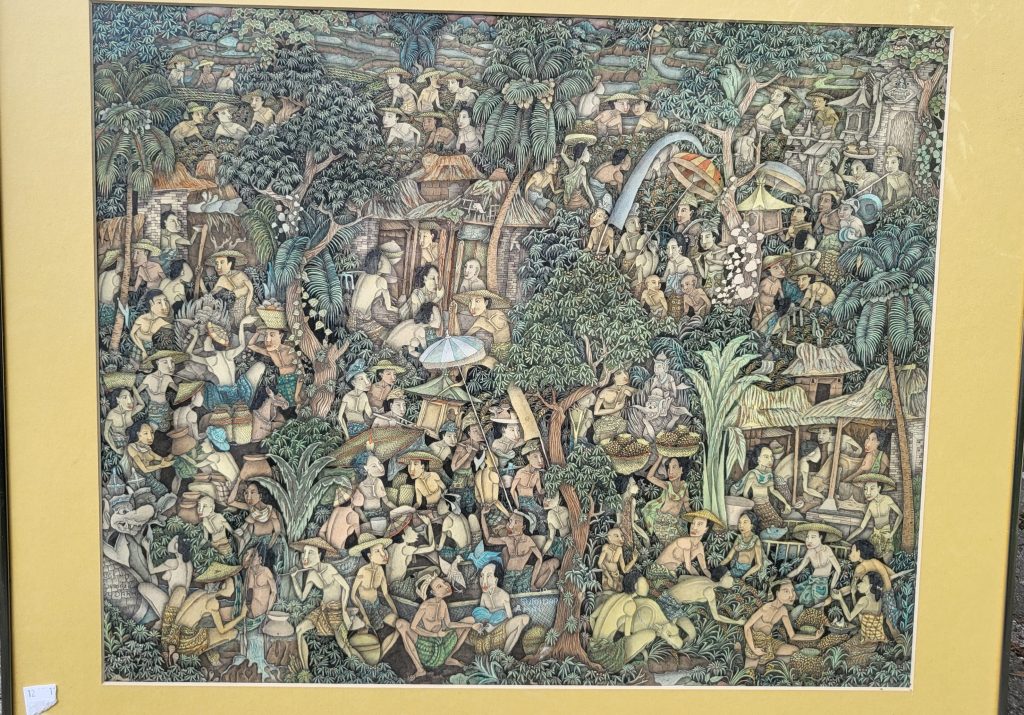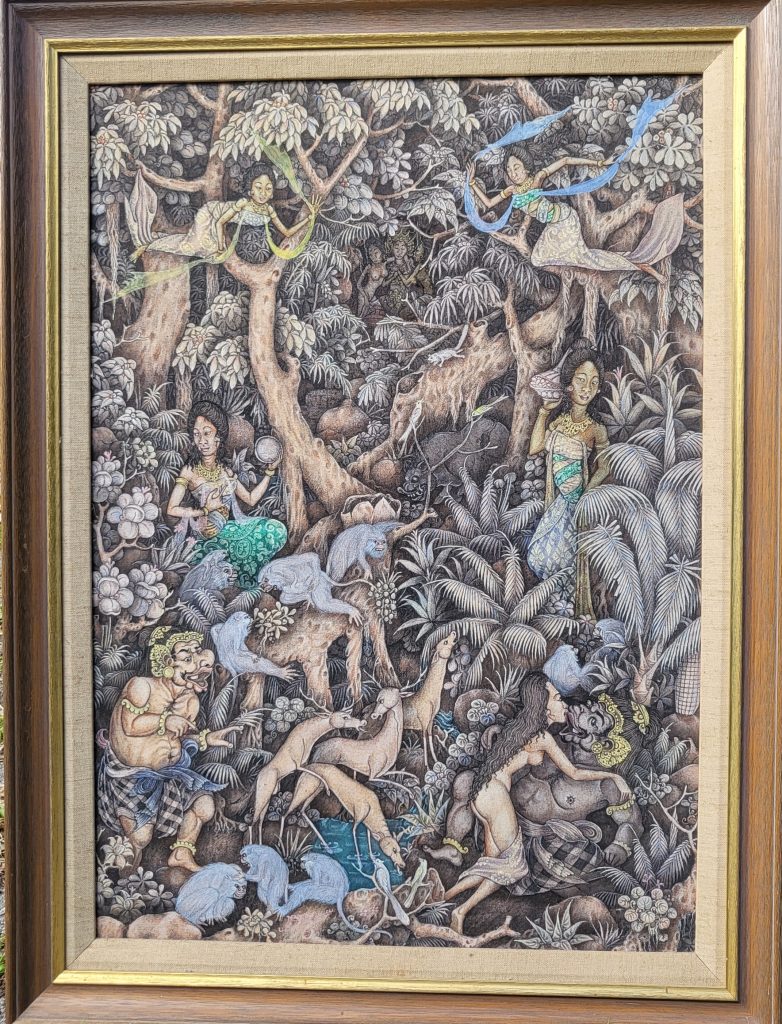 ---
Two paintings in one lot at auction. If I wanted one I had to take the other. Both signed , paint on board.
---
Other paintings in my collection that are of unknown date and unknown artists.
To see images of these "other" Balinese paintings please visit my Mysteries and Miscellaneous page.
---
References:
Books: (these books are in my own collection)
Vickers, A. Ph.D. (2012). Balinese Art: Paintings and Drawings of Bali 1800 – 2010, Tuttle Publishing.
"Different from other writers on this traditional aspect of Balinese paintings, Vickers sets the tone in the very first sentence: Traditional painting in Bali is a living art (p. 68). Indeed it is. For one, it lingers on to this very day although it has lost much but certainly not all of its traditional usage. As with so many 'traditions' in Indonesia, it has never ended. We see in this country, and also in Bali, that traditions and modern currents happily exist side by side." (PDF) Adrian Vickers, Balinese Art: Paintings and Drawings of Bali 1800-2010. Tokyo/Rutland, Vermont/Singapore: Tuttle, 2012, 256 pp. ISBN 9780804842488. Price: AUD 54.99 (hardback). (researchgate.net)
2. Forge, A. (1978). Balinese traditional paintings: a selection from the Forge Collection of the Australian Museum, Sydney. Sydney, Australian Museum.
" The study of the Kamasan paintings was an important part of Forge's research and he obtained the assistance of several Kamasan artists, including Mangku Mura, Pan Seken and Nyoman Mandra. Forge's primary informant was Mangku Mura and most of the commissioned artworks were produced by him and his family. Forge spent many evenings talking to and recording Mangku Mura's explanations of the narratives and iconographic features of his paintings. "Anthony Forge: Research in Bali, Indonesia – The Australian Museum . Anthony Forge. (1929-1991)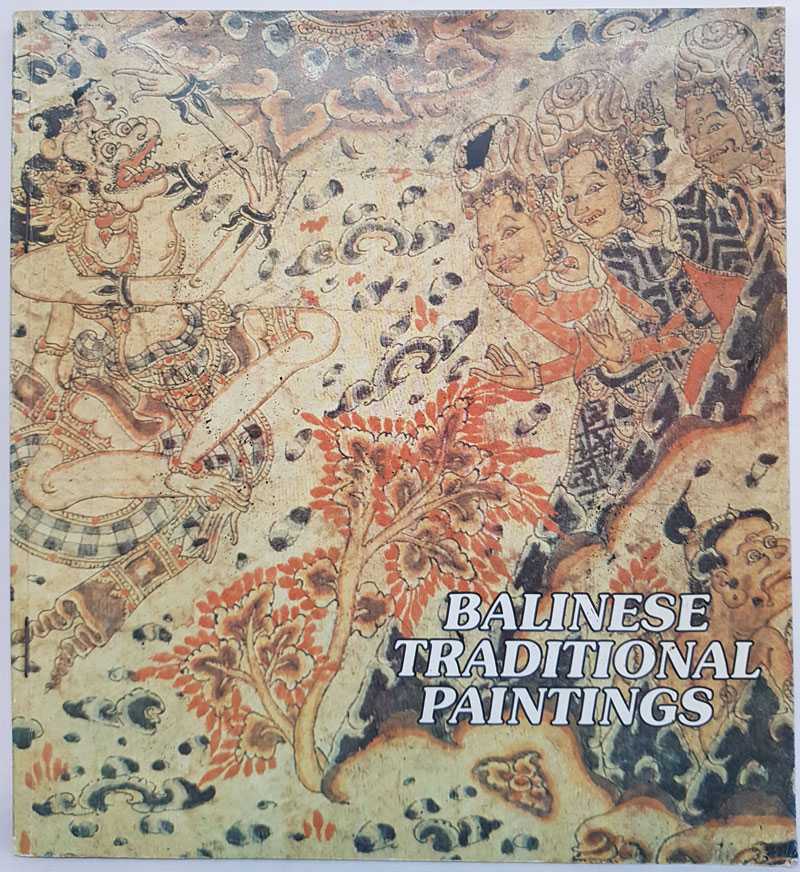 3. Fischer.J. & Cooper. T (1998). The Folk Art Of Bali, The Narrative Tradition, Oxford University Press .
" The Folk Art of Bali focuses on the Balinese narrative tradition as represented in classic painting, in shadow puppets, in painting on glass, and in embroideries. This tradition includes the Ramayana and the Mahabharata epics, Tantri stories, Jataka tales, and folklore. Most of the folk art depictions in this book have never been reproduced before. They demonstrate the aesthetic attraction, high skill, great diversity, and sacred significance of art in the past and present cultural life of Bali.
Source: Publisher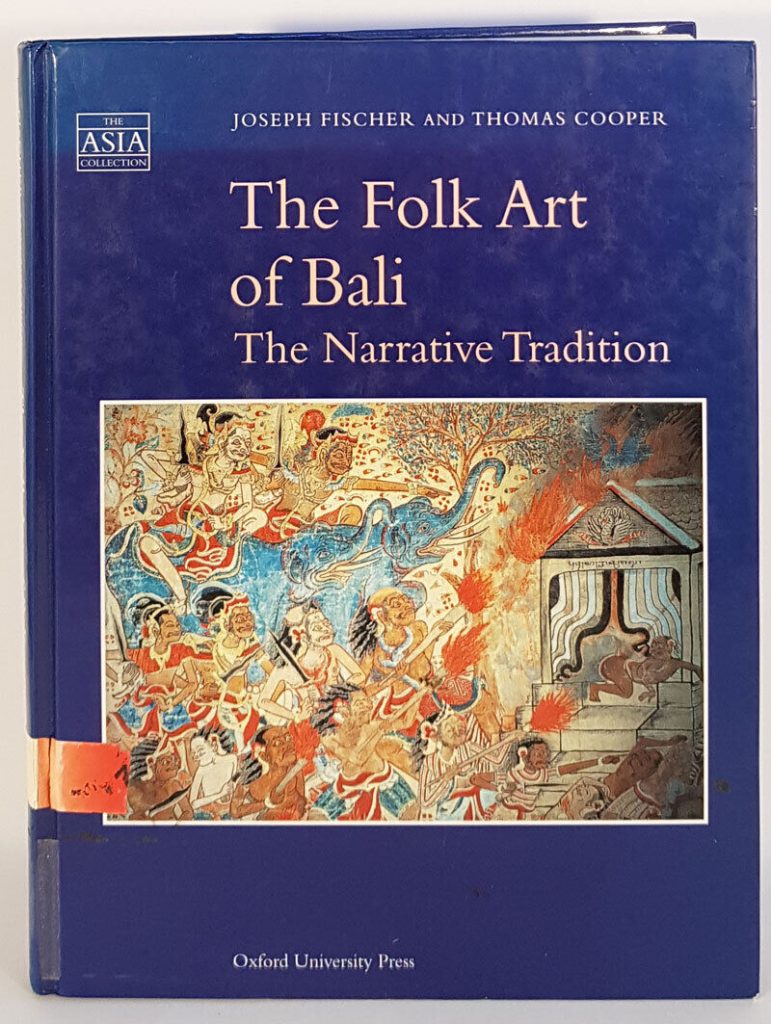 4. Mann. Richard. I. (2006). Nyoman Gunarsa Museum of Classical Balinese Painting in collaboration with Gateway Books International .
5. Moerdowo.Prof. R.M. FRSA (1983) Reflections on Balinese Traditional and Modern Arts , Head of Department of Fine Arts, Udayana University, etc..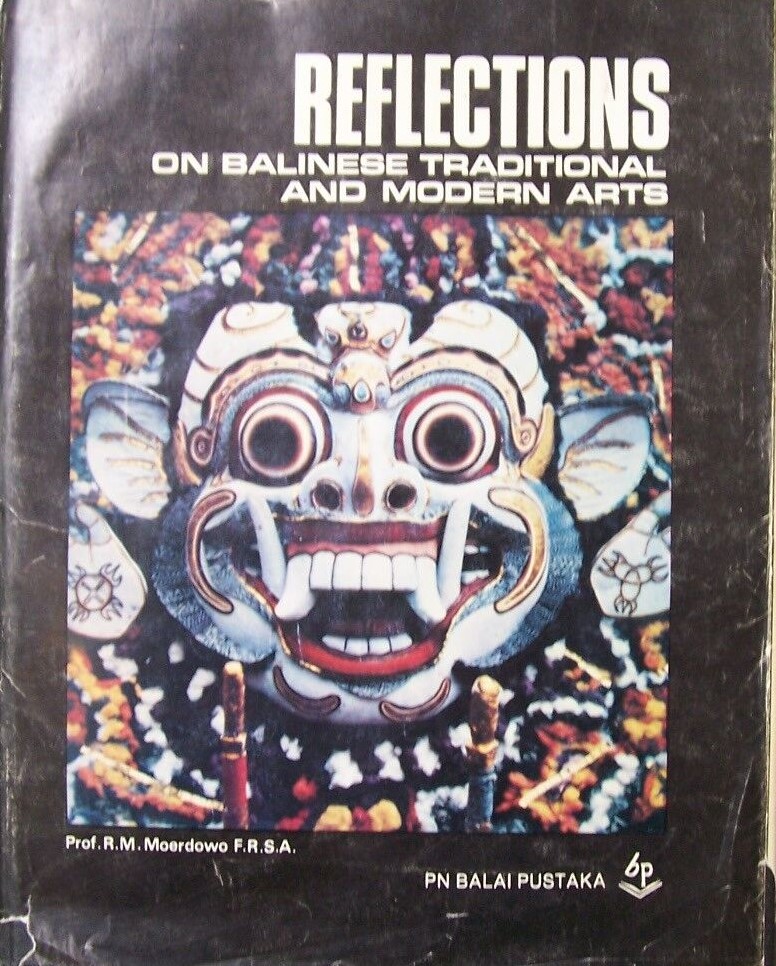 6. Fischer.Joseph (2004). Story cloths of Bali, Ten Speed Press .
For thousands of years, Balinese textile artists have adorned simple cloths with elaborate embroidered depictions of classic folk epics. As one of the many artistic expressions of Balinese culture, these colorful pieces offer insight into the tradition of storytelling in Bali while reminding us that ancient universal themes of morality, man versus nature, and the triumph over adversity can be just as significant today. In STORY CLOTHS OF BALI, Indonesian art expert Joseph Fischer shares his collection of more than 100 of these exquisite pieces alongside engaging text about how to utilize these textiles to study and appreciate traditional Balinese culture. The first major study of an unusual group of Balinese embroideries, STORY CLOTHS OF BALI is a fascinating glimpse into a culture rich…
Source: Publisher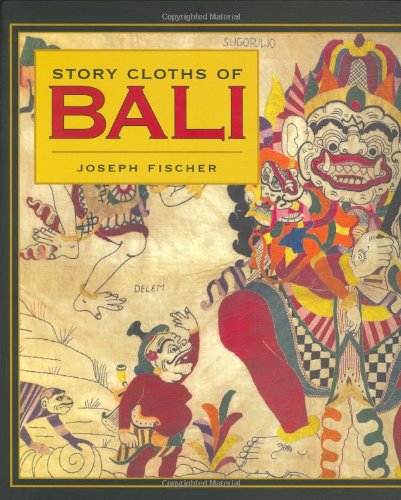 Websites:
Kamasan Art in Museum Collections in: Bijdragen tot de taal-, land- en volkenkunde / Journal of the Humanities and Social Sciences of Southeast Asia Volume 170 Issue 2-3 (2014) (brill.com)
Art Quill Studio: Balinese Painting – Tabing (Part I)ArtClothMarie-Therese Wisniowski
Art Quill Studio: Balinese Paintings – Tabing (Part II)ArtClothMarie-Therese Wisniowski