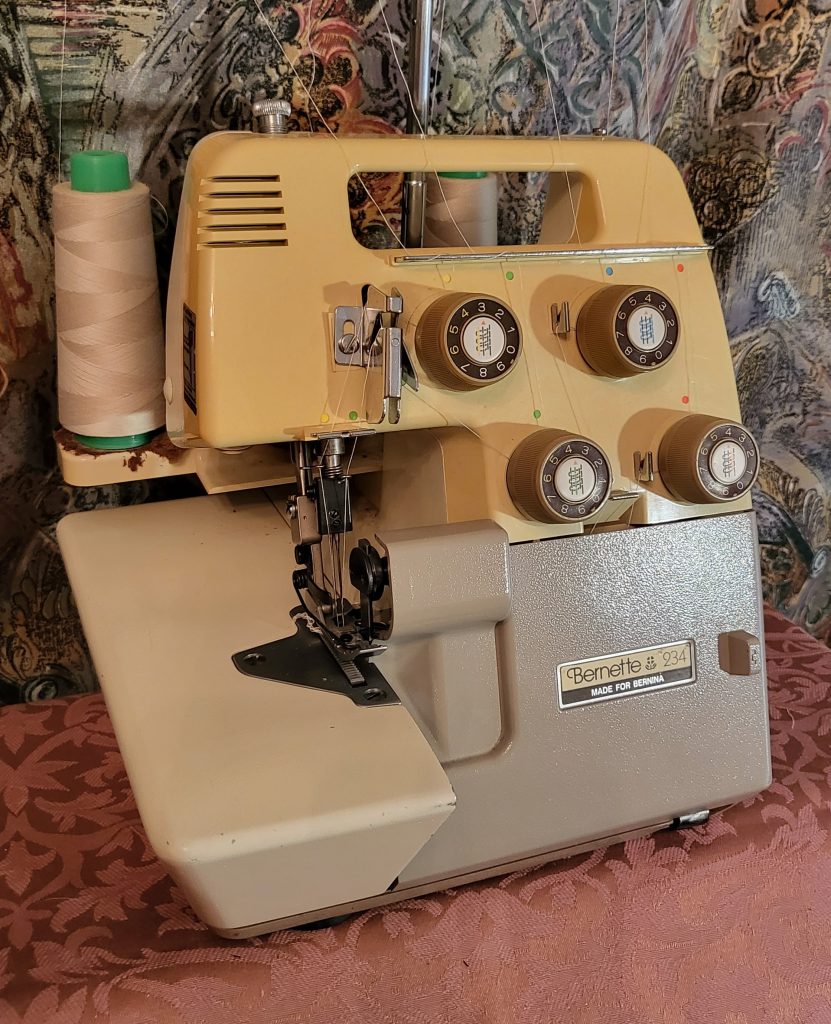 Saw it..
I spotted this machine advertised on a social media "for sale page".
I had heard so many good things about this machine and it was the first I had seen advertised locally.
I had read it was all metal and built like a tank. Maybe a plastic tank?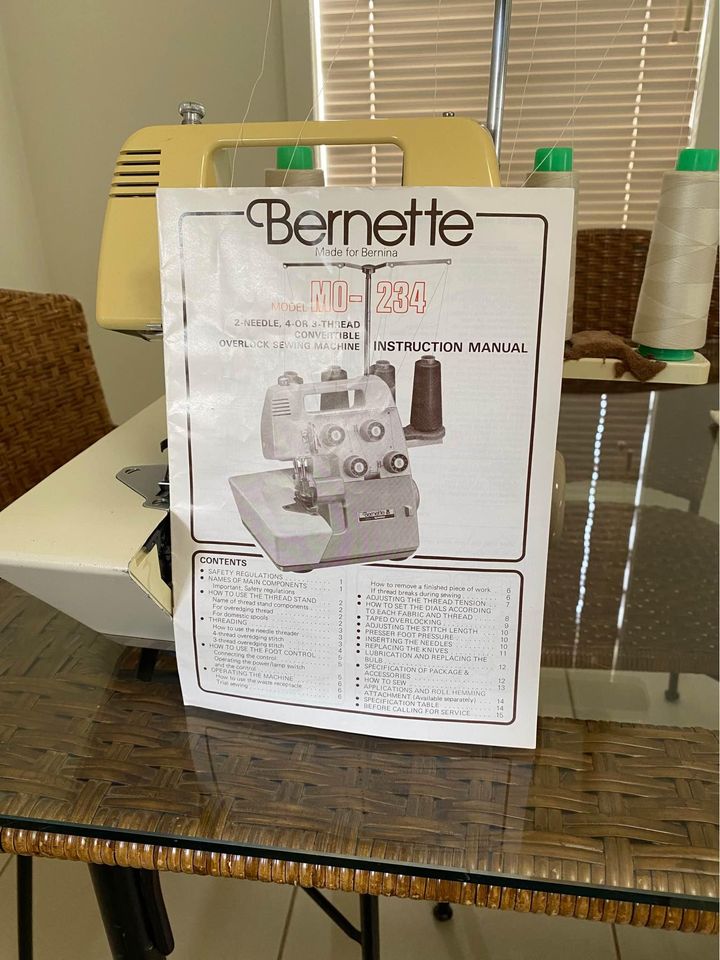 Collected..
Picked it up and started to inspect the machine. Presser foot off, front plate off, shine a torch inside, so far so good. A bit of fluff, but that is normal.
Oh Ohhhh… plastic. NO!!! this machine has two internal brackets/moving parts that are plastic. This is exactly what I did not want to see or expect to see.
Dissapointed..
Don't get me wrong, the machine works fine. Still! Plastic, no matter how nice it is now, will eventually deteriorate, much faster than steel, so this machine won't last as long as some of the other early models. With a lot of use, these plastic joints will wear out. With light use they will also deteriorate.
This machine has a lot more plastic on the exterior than many of the other early Japanese machines I have seen. Even the bottom is plastic and broken. The rubber feet are quite thin/ flat and not as sturdy as the other machines.
In 1988 this machine was discounted to $799 from $899. Newspaper advertisement at bottom of this page.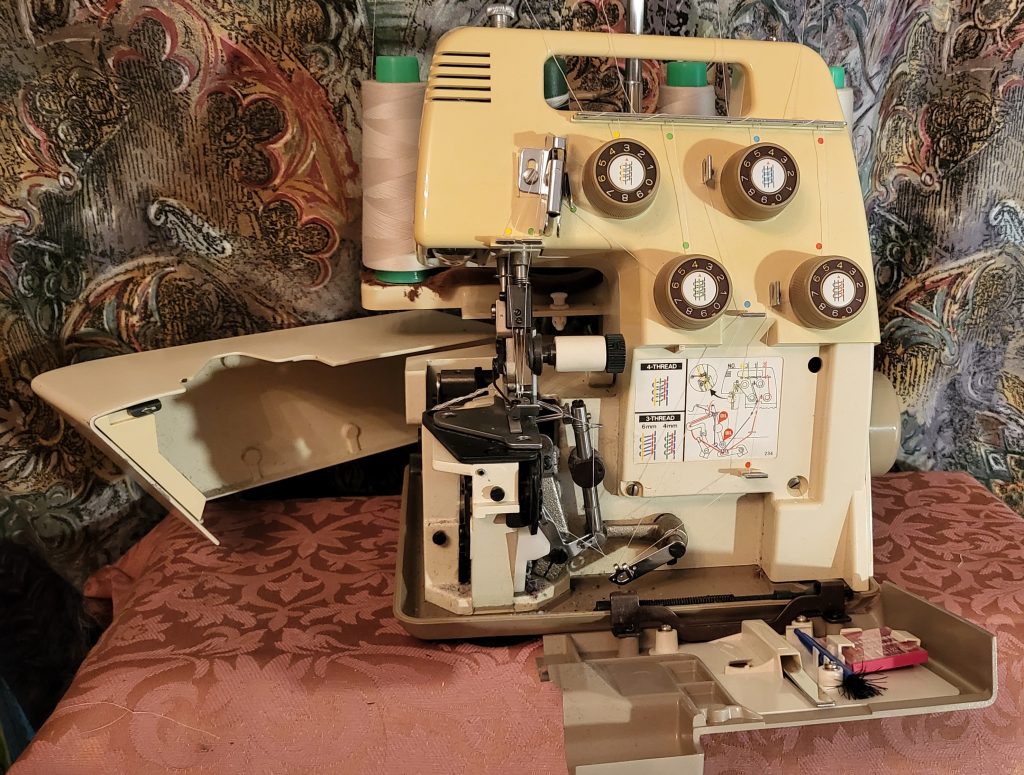 There are a few things I like. It has the accessories behind the front door. The spool pin holder moves across and then back for safe storage. The plastic front plate, right side plate, and plastic spool pin holder are all easy to remove for maintenance.
There are a few things I don't like. Plastic spool pins, plastic gears, plastic bottom and hard to get at motor for oiling.
Research..
I have found this image on the blogspot, Male Pattern Boldness.
male pattern boldness: Oh, Joy: My First Bernina Serger!
This Bernette is a 334DS, differential feed and it does not look like it has the same plastic parts as my machine.
More research is required. So, for now, I don't know if all Bernettes are the same.
Is mine a later model? Maybe the earlier releases are all metal and the later have plastic? It is very possible.
Is mine a budget range?
I would love feedback from anyone who has insight into this.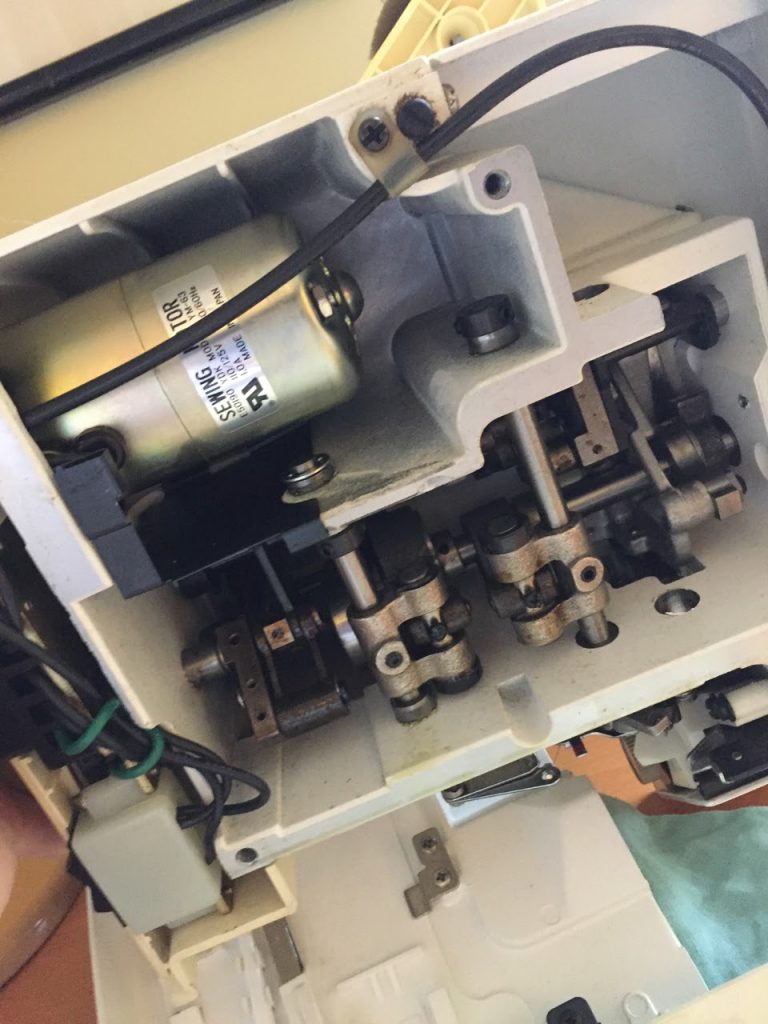 334D update.
I have since found a 334d model, you can see it on the Bernette 334D page. It has a plastic looper drive gear, so again something plastic. I now suspect the 334DS also has the plastic looper drive gear.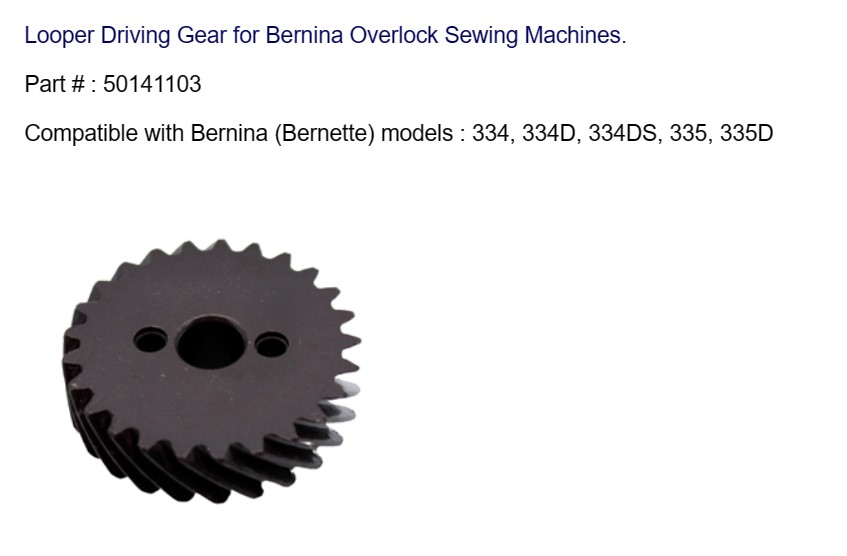 Up and running..
Initially I could not get a nice stitch. The machine was cleaned, oiled and running smoothly. I found that I needed to dismantle and clean two of the tension disks. These machines can be rather particular and if the thread is not running smoothly through all thread guides, it can cause all sorts of trouble.
Final stitch. The final stitch is nice and the machine has a lovely solid feel. If I was going to use the machine, I would fine tune the tension. I am just glad that it is working well and has come back to life.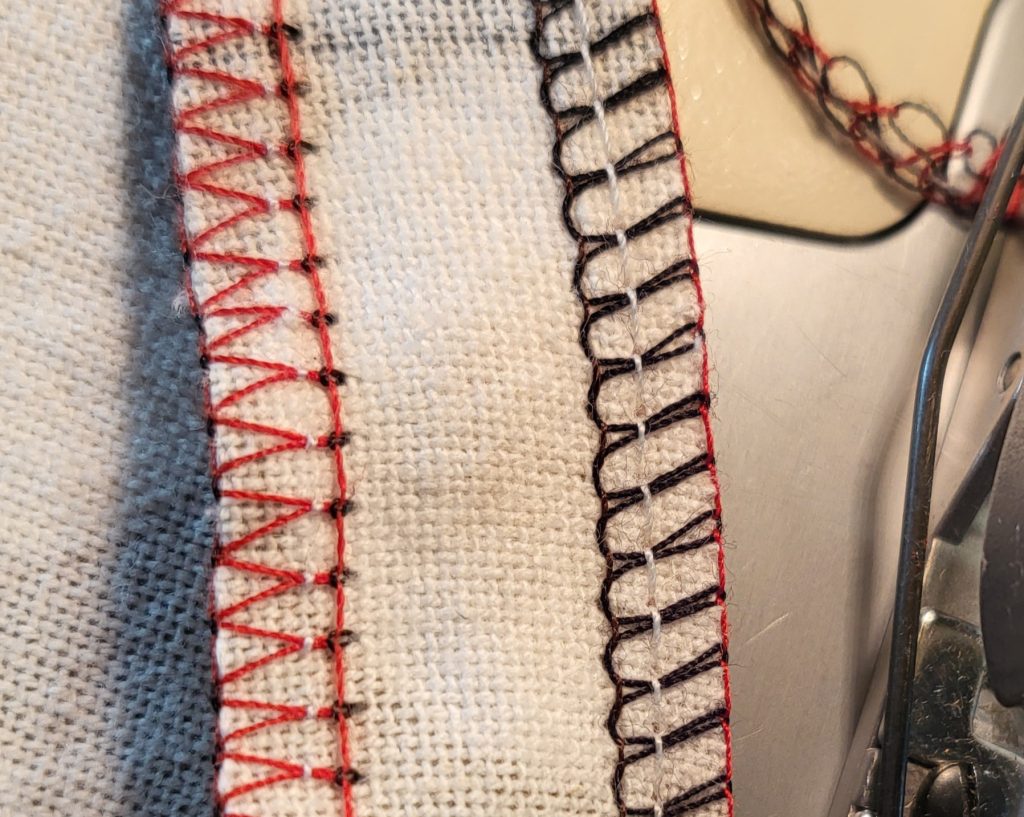 Gallery..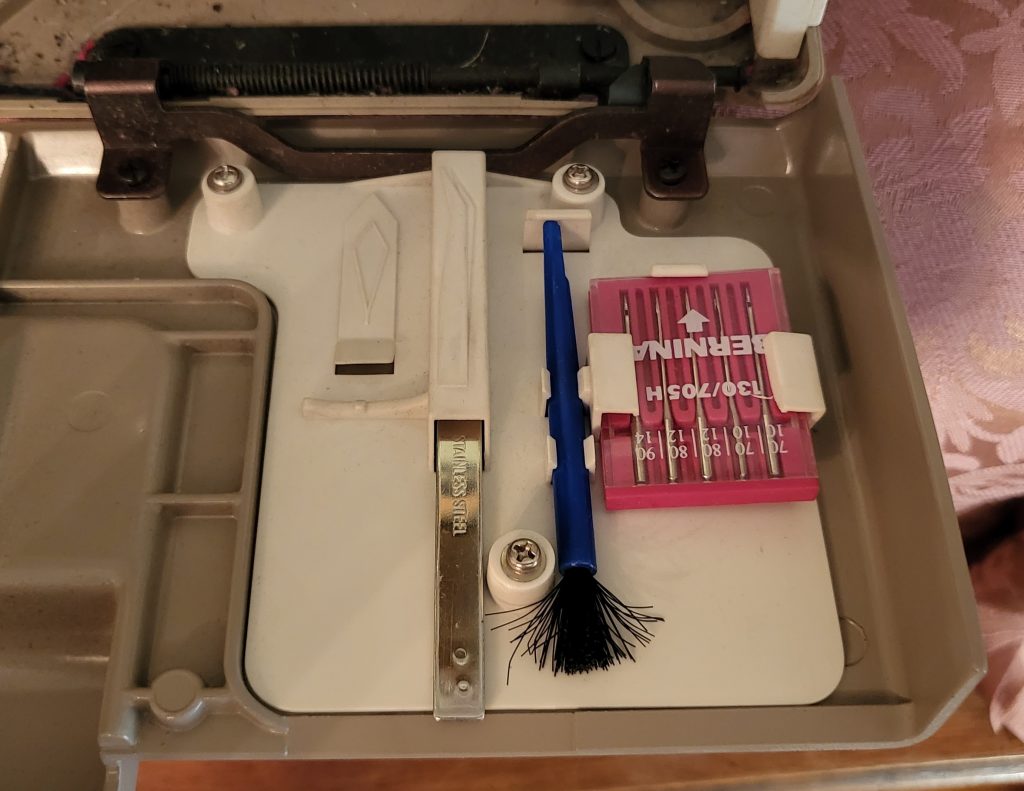 1988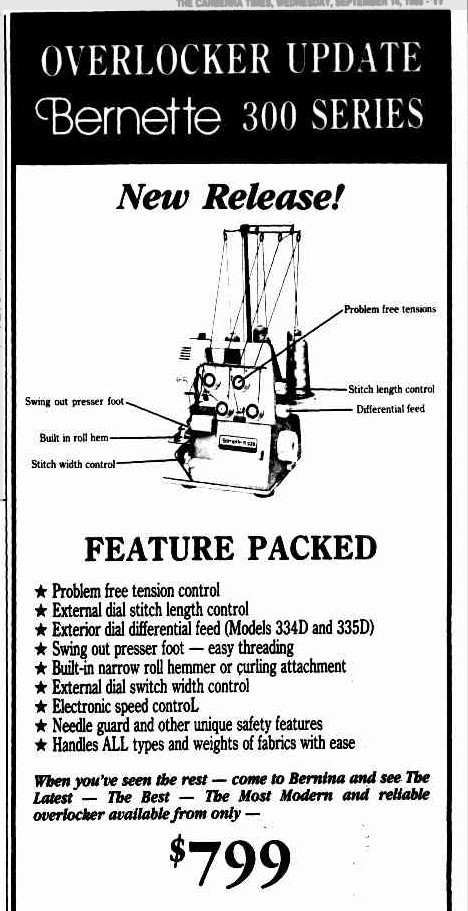 http://nla.gov.au/nla.news-article102070730