Gritzner VZ Automatic. Ward Bros. 1956.
&
Gritzner VZ model 1955. See below.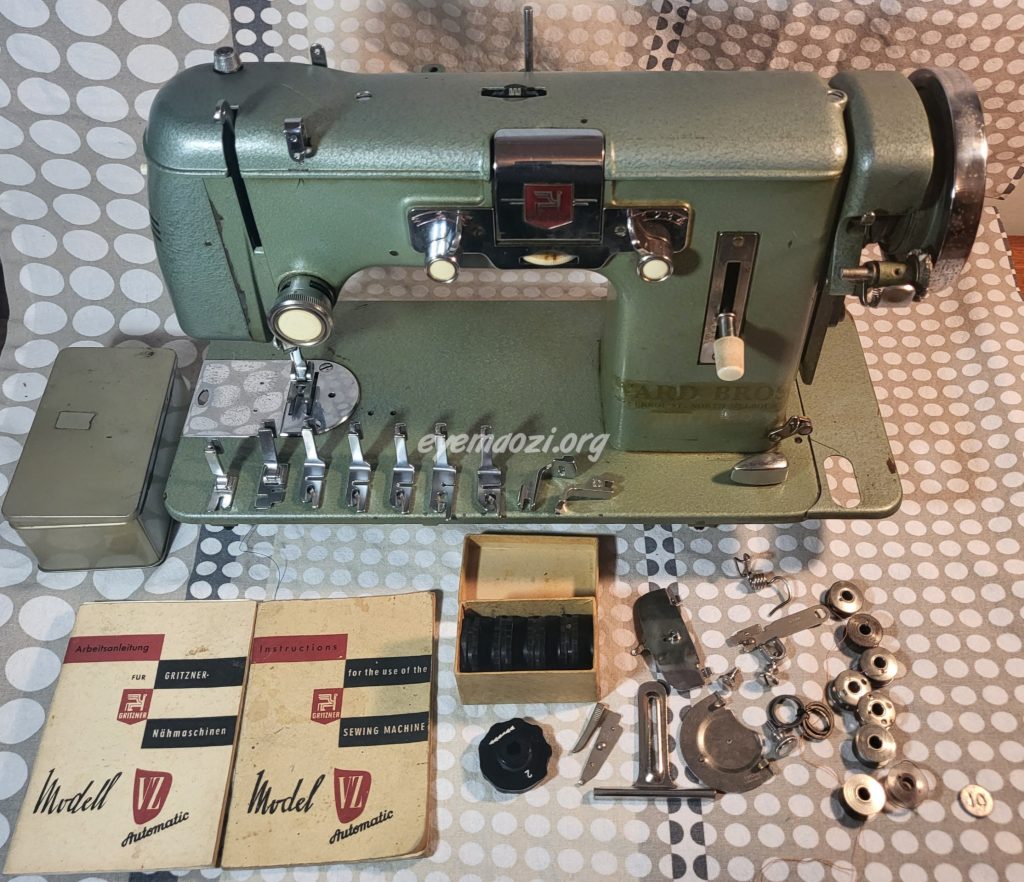 I found this machine advertised on FB marketplace. It was a 2 hour drive away , but it was only $50. I left it for 2 months thinking surely someone else would snap it up, but alas after all that time it was still there. I contacted the buyer as I was intrigued by the two blurry photos and had done some research, so I suspected it was a VZ automatic. I happened to have a VZ instruction book in German that I had received in a bulk lot of sewing items (pdf for this is below), so maybe it was just right that I reunite the machine with its book? I contacted the buyer and he confirmed there were 5 plastic disks that were in the cabinet drawers, so I decided to go for a long drive into the countryside. These are the photos that were on the ad.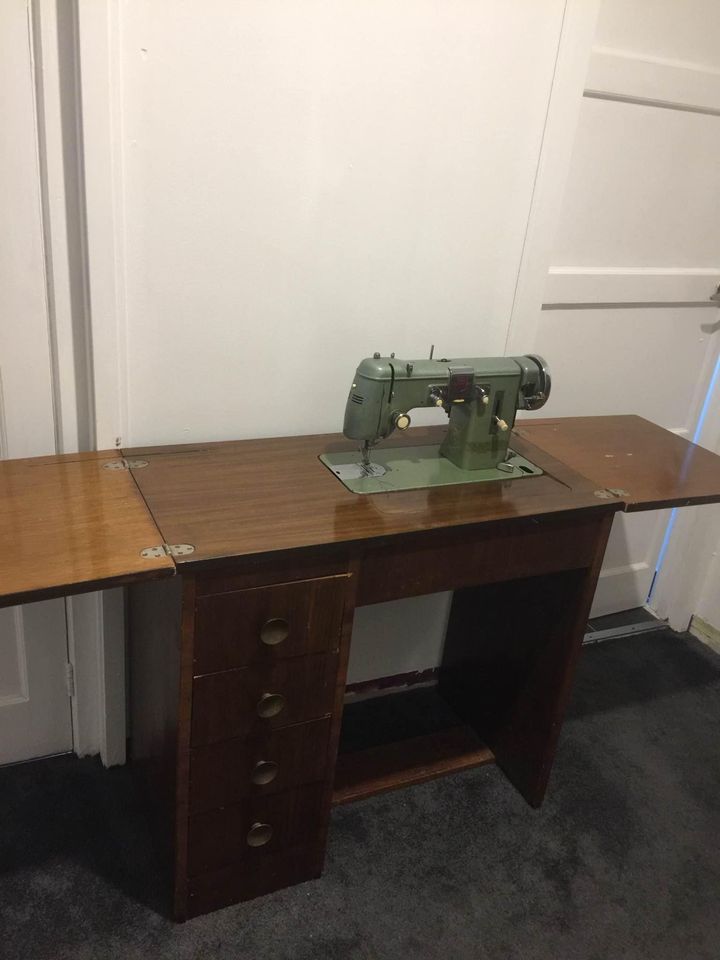 Well the trip was well worth it, just goes to show there are still some lovely machines out there, just sitting wanting to be taken. As it was, I was glad I had caught the machine in time, as it was starting to corrode and some paint was flaking. It is a lovely Gritzner VZ automatic with all 5 cams and even came with the book in English (pdf for this is below), which was really handy as the dials are quite complicated, if you have not used this machine before. Like many of these machines it is heavy. It has built in zig zag as well as wavy stitch and the usual straight stitch. This one is a metal hammered finish in a green "sage" colour. These machines also came in a "forest green" colour or even two tone. There was corrosion starting in the needlebar area and if left much longer and it would have been seized. With patience, oil, time, heat and plenty of cotton swabs, I got her clean and moving. I could have pulled her apart, but I honestly don't have the time. Maybe one day she will get a complete overhaul. The tension still needs to be adjusted, but really, after a bit of a clean, the machine is still working really well. It has a sew tric motor, which along with the Wernard motors is a common addition to these machines imported in the 50s. Turns out it's a lovely machine distributed by Ward Bros, North Melbourne. I have included the advertisement below, which makes this machine much easier to pinpoint at a time in history, it probably came to Australia around 1956. This machine new in 1956 in a cabinet was 113 pounds, which is approx $227. This converted to a price in 2021 would be $3,886.66, so getting it for $50 was a certain bargain.
Gritzner was bought out by Pfaff soon after this machine was released and there are some similar Pfaff machines out there such as Pfaff 139 and 239, as well as other brands, including White and the Kenmore 117.740. Tim Latimer Quilts has a good write up on these at his blog from 2016 April | 2016 | Tim Latimer – Quilts etc (wordpress.com)
Thanks to Twassbrake at the Sewing Machine Technology Forum (naehmaschinentechnik-forum.de) forum, it was pointed out to me that In the US this model was also sold in a coppery/cream two tone variant under the label Kenmore 117.841. KenmoreGal and Lazlo8 (most recently) over at the VSS have those models.
More on the Gritzner can be found at Gritzner – Naehmaschinenverzeichnis
---
Instruction book in English can be found here.
Instruction book in German can be found here.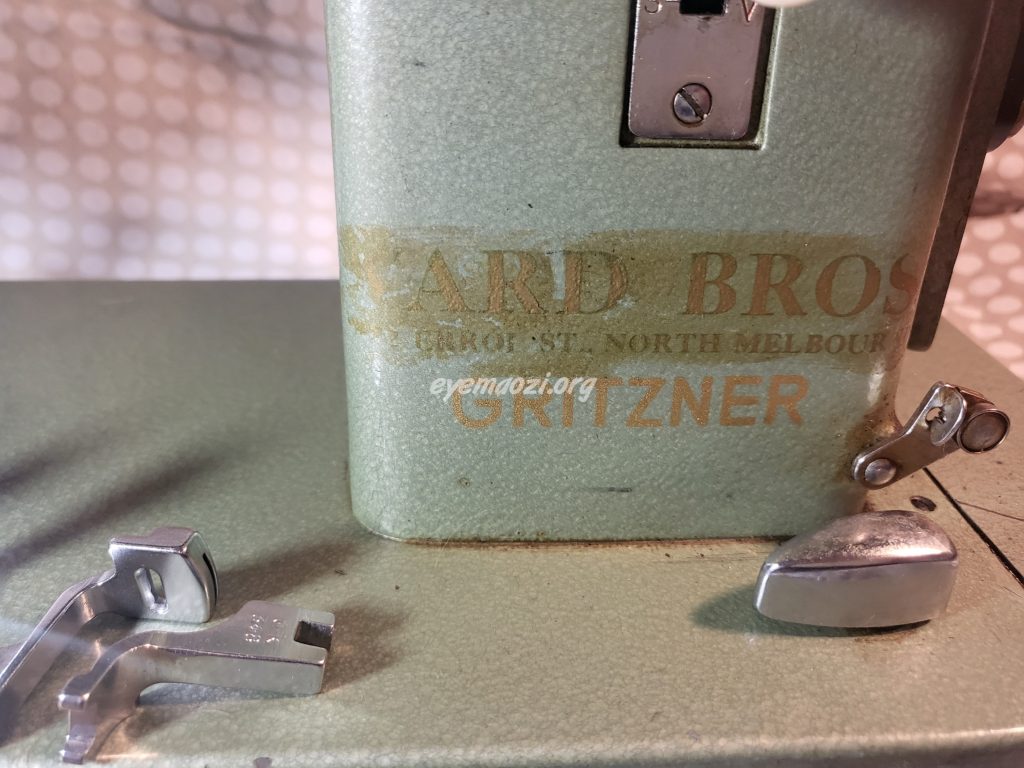 ---

I have come across two Gritzner VZ machines. Both still functional, but with signs of wear and tear but still have beautiful stitches. Slight differences between them. I suspect both 1955 machines.
The machine on the left is I suspect the older machine as it has an earlier number. It has a Gritzner motor, built in light, very solid base, which I suspect is made in Europe, the Gritzner decal on the front has been rubbed off, but it still has the Ward brothers Australian importers marking above the bed.
The machine on the right has an after market Wernard motor with attached light. The base and green lid appear to be the same as many other machine bases I have found here, so I suspect they are Australian made. The same Ward Brothers importers mark.
The earlier Gritzner. #612227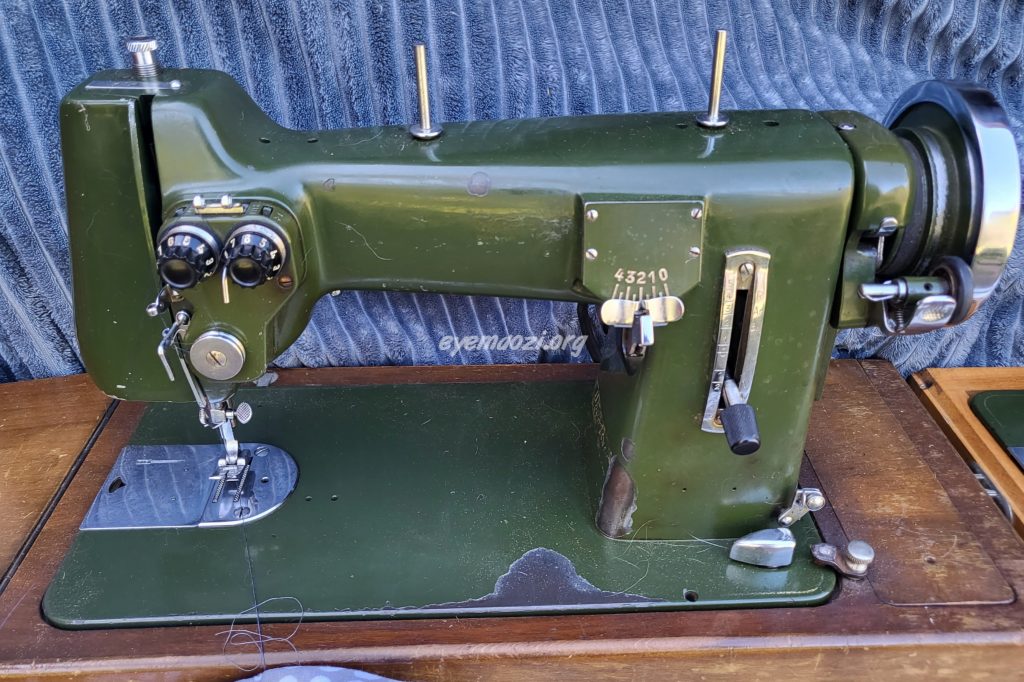 The later Gritzner. #688260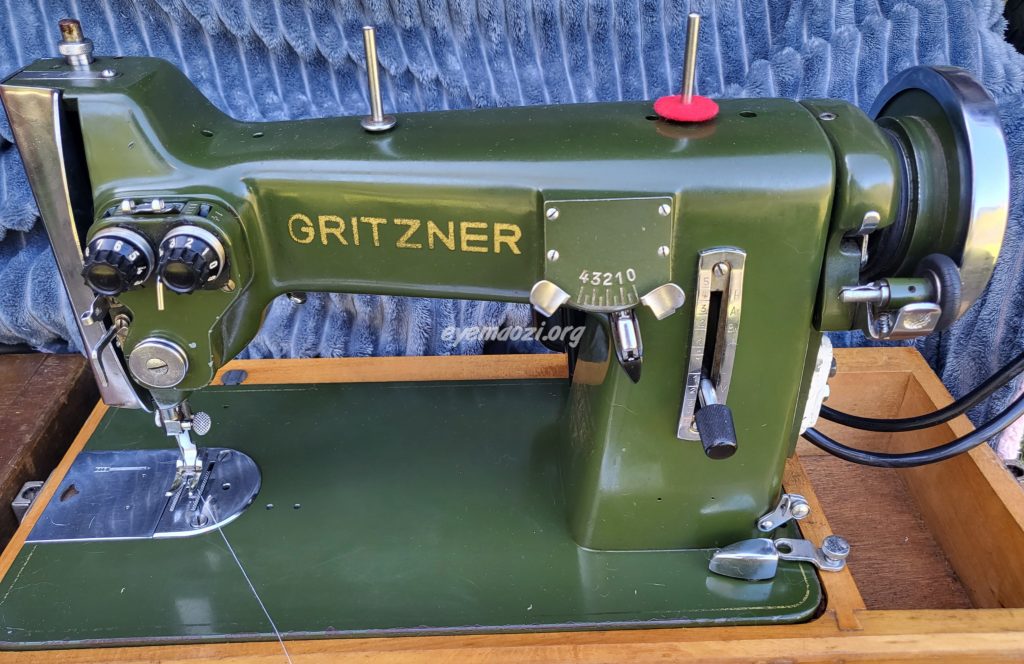 Side by side.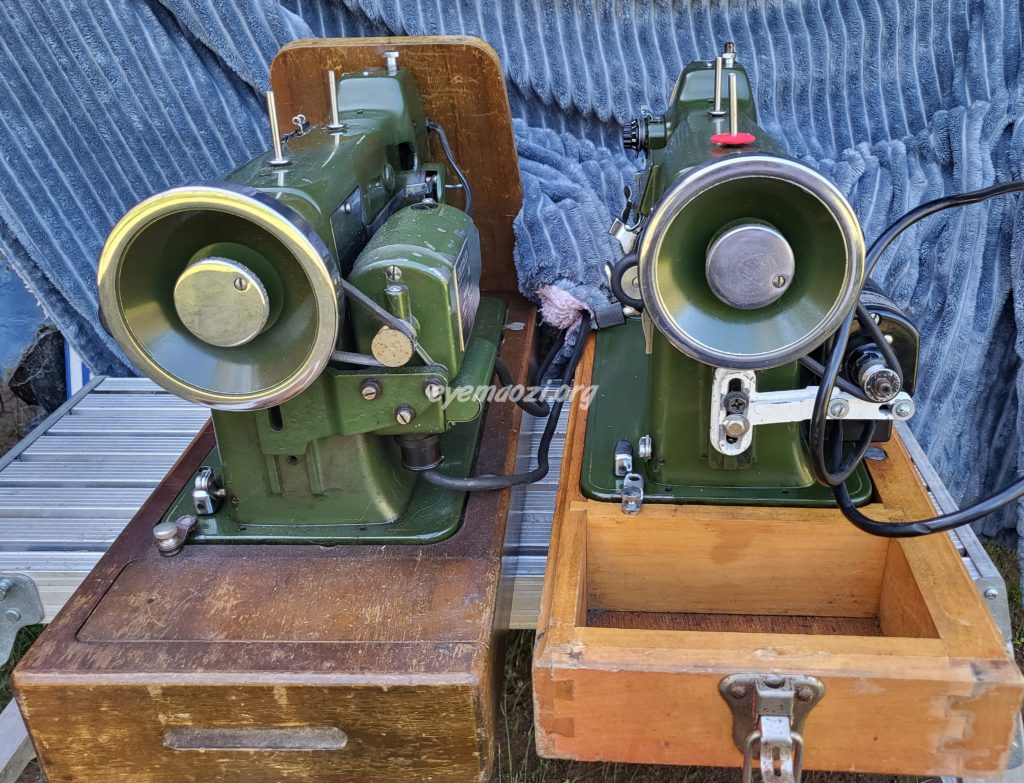 Instruction book in English.
Instructions in German.