In July 2022 I purchased this painting from an auction house in Melbourne. It measures 121cm x 147cm. For a few short months I was the owner of a masterpiece, but I did not know it. There was a signature on the back and I was determined to find the artist.
This painting was the catalyst for my love of Kamasan paintings. After research online and posting questions in social media groups, I discovered it was indeed a painting by Mangku Mura. A lovely Balinese man who was on social media and lives in Klungkung contacted Mangku Muriati on my behalf and confirmed it was indeed her fathers signature. I decided then and there that this painting had more cultural significance to the people of this area, than it did to me, so I returned this painting to Mangku Muriati, in September 2022.
When I purchased this painting, it was original in a frame. Unfortunately, when it was delivered by the couriers, the frame had been damaged beyond repair and the edges of the painting had been torn. Had I known at the time how important this painting was, I would have taken better precautions. The cloth, which I believe may have been rice cloth was very fragile. Luckily none of the tears extended too far into the painting itself. Maybe the painting broke free because it wanted to be gently folded and returned to Bali? You just never know.
Video taken of Mangku Muriati on the day that I returned this painting. She explains the story to me and my driver. Putu Agoose is my driver and friend and here he translates the meaning as told to him by Muriati.
Original auction image.
The frame was damaged in transport, I recycled it and the framer was able to use the unbroken pieces. It is now used on my Mangku Muriati painting.
Images of the painting before I took it to Bali.
Laid out on my bed to photograph, as it was too big and fragile for me to photograph it anywhere else. The colours are faded and very subtle, but on close inspection you can see the beautiful detail.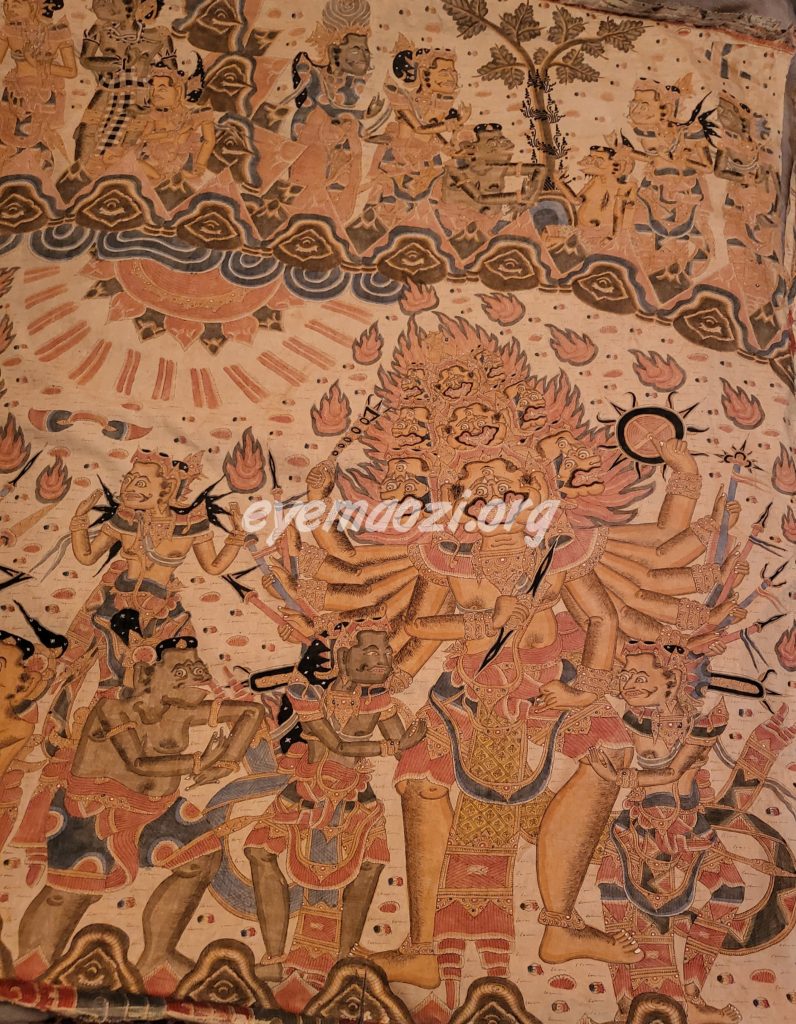 Back in Klungkung where its journey began.
To see more of these images, please see my Mangku Muriati page.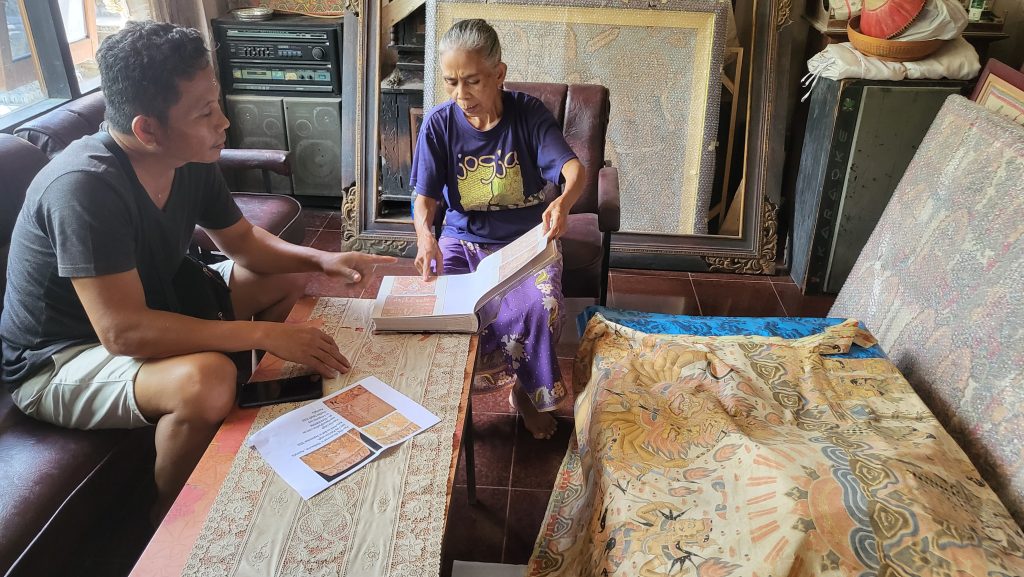 Side by side, two Mangku Mura paintings.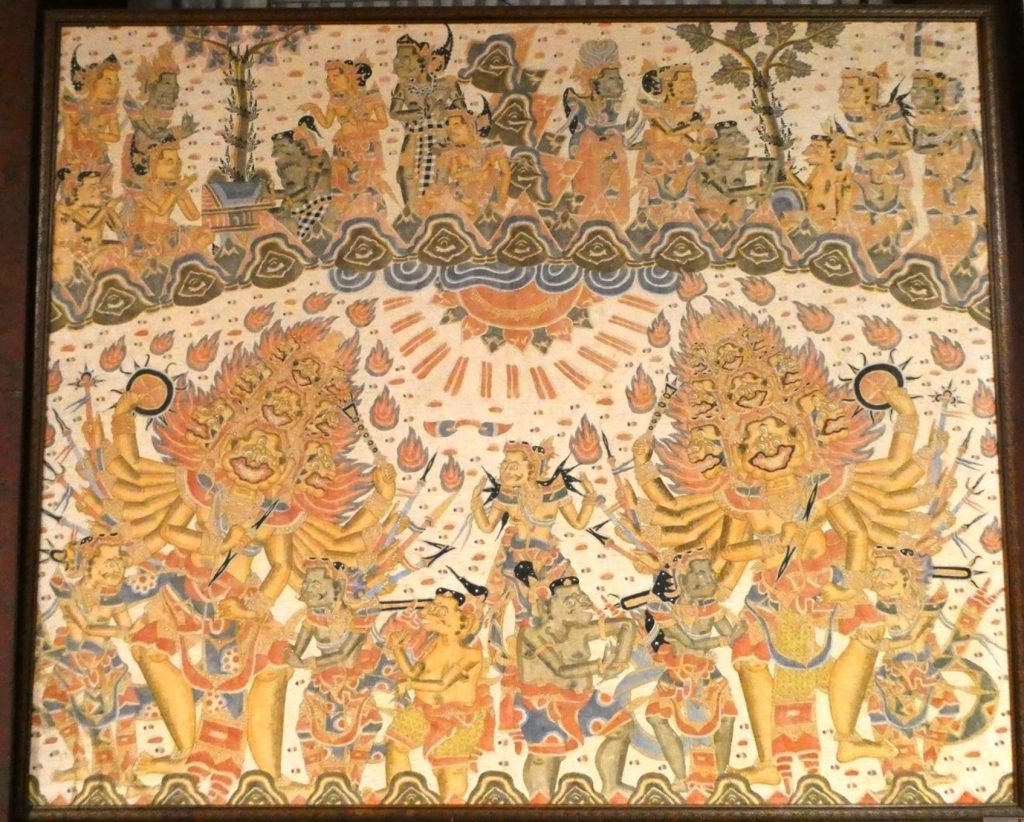 In regards to the painting on the right. (note in some documentation Mangku is also written as Manku.
Tabing – Bharatayuddha: Salia and Aswatama.
Size: 94 x 120 cm.
Courtesy of reference [1].
Comments[1]: Eurpoean cloth, painted by Manku Mura in 1972.
Towards the end of the Bharatayuddha, after the death of Karna, Aswatama, the son of Drona (who has already been killed), accuses Salia, who is about to be appointed commander of the Korawa army, of being responsible for some of the recent disasters. Both become furiously angry, and since both derive some aspect of devine power from the god Rudra, take on the pamurtian form (i.e. a nine-headed demonic form), assumed by high gods in states of fury. However, since both derive their power from the same source, they are equal, and so no advantage is to be gained by fighting.
Manku Mura was definitely trying to bring this point out by balancing the two pamurtian figures. Hence he refused to nominate who was Salia and who was Aswatama. The idea of balanced opposition of equal powers is clearly conveyed in this cloth painting.
Art Quill Studio: Balinese Paintings – Tabing (Part III)ArtClothMarie-Therese Wisniowski
---