Domestic Overlockers also known as Sergers became available in the 1960s. The overlocker was available well before this, primarily as industrial machines. Below are some of the overlockers in my collection, but first a bit more information.
Japan in the 1960s saw the development of the domestic overlocker. These early machines contained very few plastic parts. The domestic overlocker of the 1960s to 1980s can be very well-built machines. However, at this time, as they are in the infancy of the domestic design, they can also be very basic with limited functions, such as width and stitch length.
These 1960s to 1980s Japanese machines are the focus of my collection. There may be the occasional later model machine added to this page and even the odd one not from Japan, as I can't pass up a bargain and the chance to pull apart, look at, clean and possibly restore and repair a sewing machine. Still, I hope that I will stick to the machines that are mainly metal, vintage and interesting. Many of these machines seem to trace back to the original Juki.
There are a couple of websites that show the history of the Juki machines. I found this one most interesting as it had a basic visual representation of the early models, it is in Russian. History of Baby Lock, chronology by year and model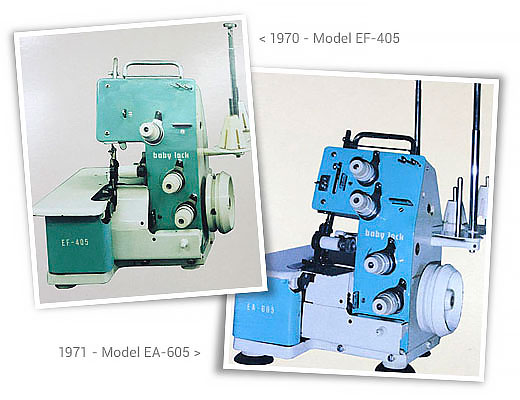 A 1991 Serger book called "The Serger Idea Book: A Collection of Inspiring Ideas from the Palmer/Pletsch Professionals" was recommended to me. It is a wonderful book for beginners. It has an introduction and these wonderful image of sergers/overlockers from this period. I can spot of few of my machines, Elna, Janome (Riccar), Bernette, Singer, etc.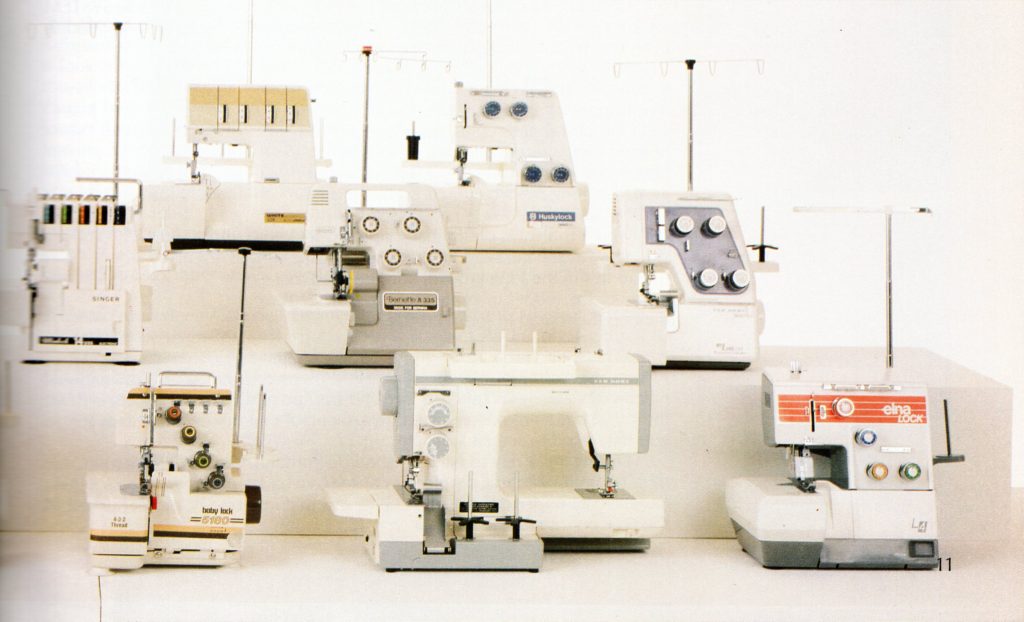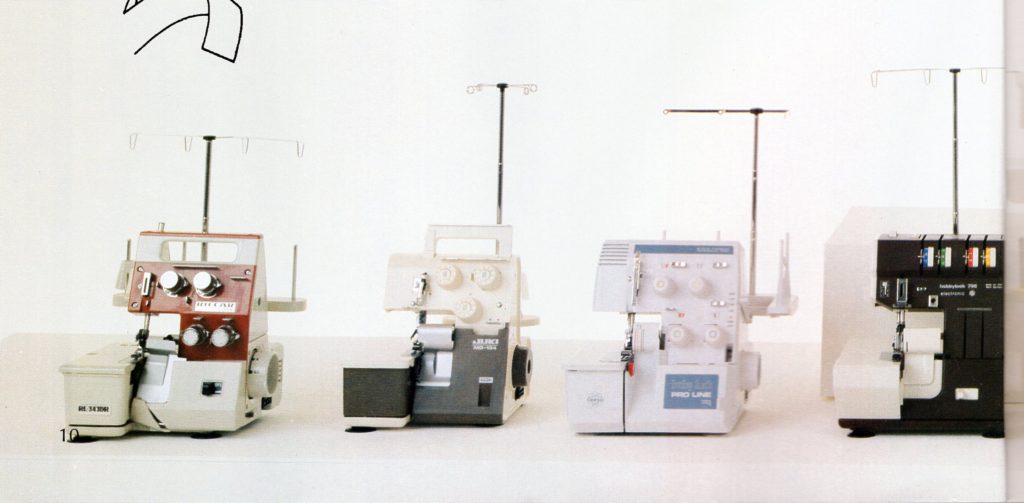 Below are some of my Overlockers / Sergers. I have found all these machines locally in and near Melbourne, Australia. The prices of these machines have ranged from free, through to $150 AUD. Mostly I have been able to pick them up for about $50 (which is just the price for a few coffees). From what I can find at the archives at Home – Trove (nla.gov.au) these machines retailed from $500 in the 70s and 80s. Half of the fun is finding a machine that is not working and bringing it back to life.
Scary, daunting and confusing are just a few of the words that come to mind when I got my first overlocker. Now that I have mastered the threading, I don't find them intimidating anymore. Just another sewing machine that has a different way of making a stitch or stitches. Yes, they can be fiddley to thread, but that is part of their charm. I can see how new machines with easier threading and differential feed can make it easier for someone to use, if you use an overlocker all the time, but these older machines have something they don't…longevity and charm. I am a collector first, a restorer second and a seamstress third.
I will try to put them in groupings of badges names and then in rough order of manufacture date, but this can be vague, some machines look older than they are. Most are Juki and rebranded as different companies. I will also upload to my google drive any manuals or instruction books that these came with that can be downloaded for free, see the links on the specific page for the machine you are looking for or go to my google drive and see all the manuals available for free.
My reviews of the following machines are based mainly on the mechanics of the machines. I like to know how they work, how long they might last (i.e how much plastic they have), can I pull them apart and service them myself and my overall impression. Can I get them to make a decent stitch, having been found in the wild? If you are looking for a more in-depth view of the machine from a sewing and function point of view, I suggest you look at Sewing Pattern Review Online Sewing Community as there are many reviews there and some good ones on the machines below.
Reviews on the overlocker, serger….
---
---
---
---
---
---
---
---
---
---
---
---
---
---
---
---
---
---
---
---