Trendsetter Sapphire
The Sapphire is a zig zag machine with button hole ability. Circa 1964.
This machine is two tone, light beige and cream. The lighting in the room is not the best, but you get the idea.
The Trendsetter Jewel is the same colour and the two machines are nearly identical, except the Jewel comes with cams.
It takes the standard bobbins and needles.
Sapphire Instruction book can be found here.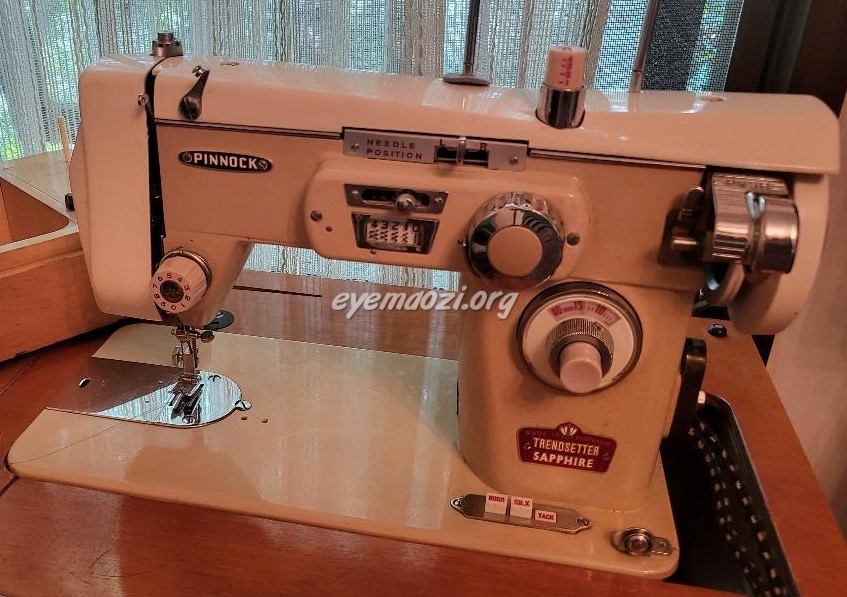 My Pinnock Trendsetter Sapphire came in a case which appears to have preserved this machine really well. The case handle is plastic, the metal hinges have a fair amount of rust and it has housed this machine well, though I doubt stored inside all these years. I have put the machine in this cabinet for a short time.
As for the machine, well its one of the most pristine machines I have come across from this era. All it needed was a light clean, some oil and a bit of adjustment to the knob that adjusts the zig zag and she was up and running. The electrical cords are in wonderful shape as is the Pinnock motor and Wernard Bakelite food pedal. I would guess this machine was only used very lightly as there are very few surface marks and inside was very clean, with only some dust residue on the feed dogs. The two spool pins fold down for storage.
The base of the case is one I have found on a number of Trendsetters, it has a table extension attached, hinged to the base and a swing out stabilising arm at the back.
The machine also came in at least one other colour, a blue and white, photos below, under the pictures of this machine.
Free PDF manuals
I have two pdf copies of the Pinnock Trendsetter on my google drive for free download.
The first manual is more damaged and is downloadable for free from here.
2. The second manual was kindly emailed to me by (158) Michaelblog456 – YouTube and is in much better shape. You can download this one for free from here.
3. Trendsetter Sapphire Parts manual. You can download this document as a PDF from here.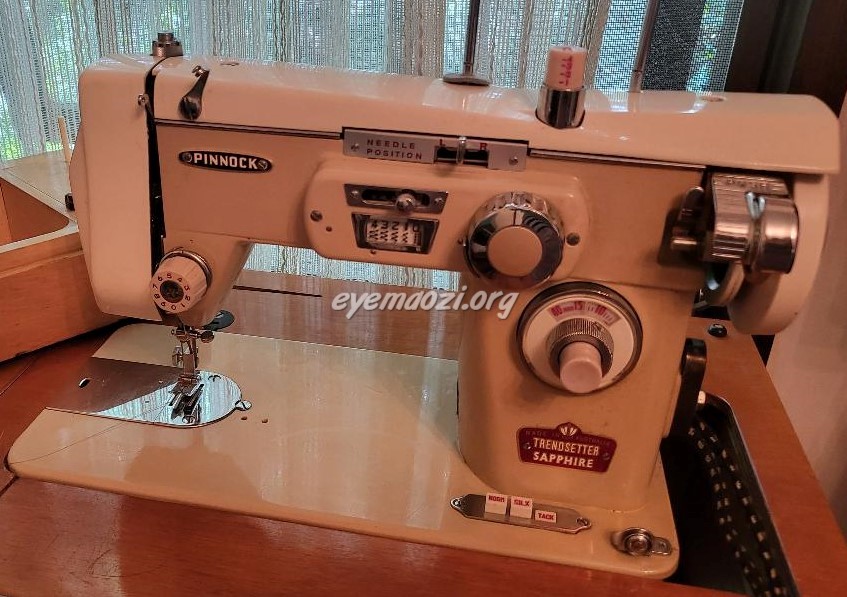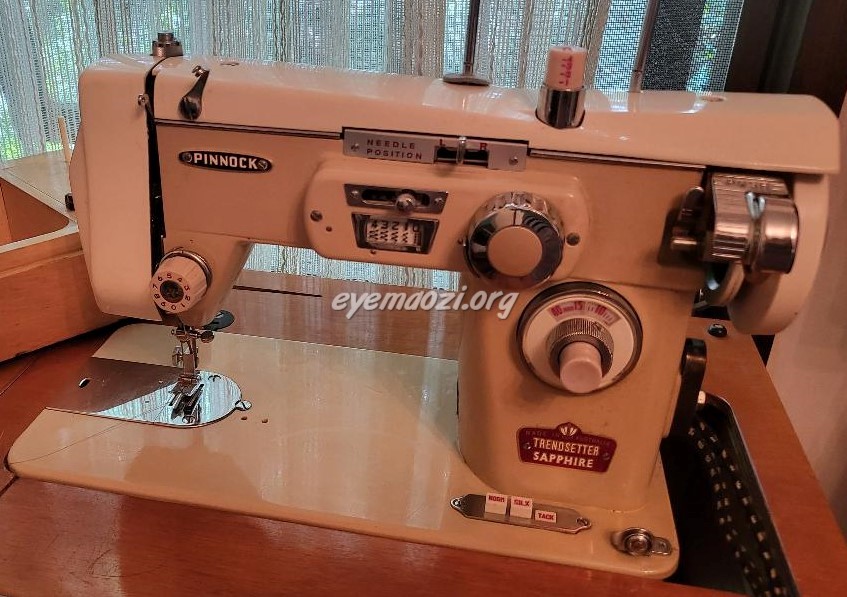 I don't know the owner of this machine and I cant remember where I got the photos. Putting the images here as a reference. The only slight difference I can see on the machines is that this one has only 2 feed dog settings, whereas the beige machine has 3.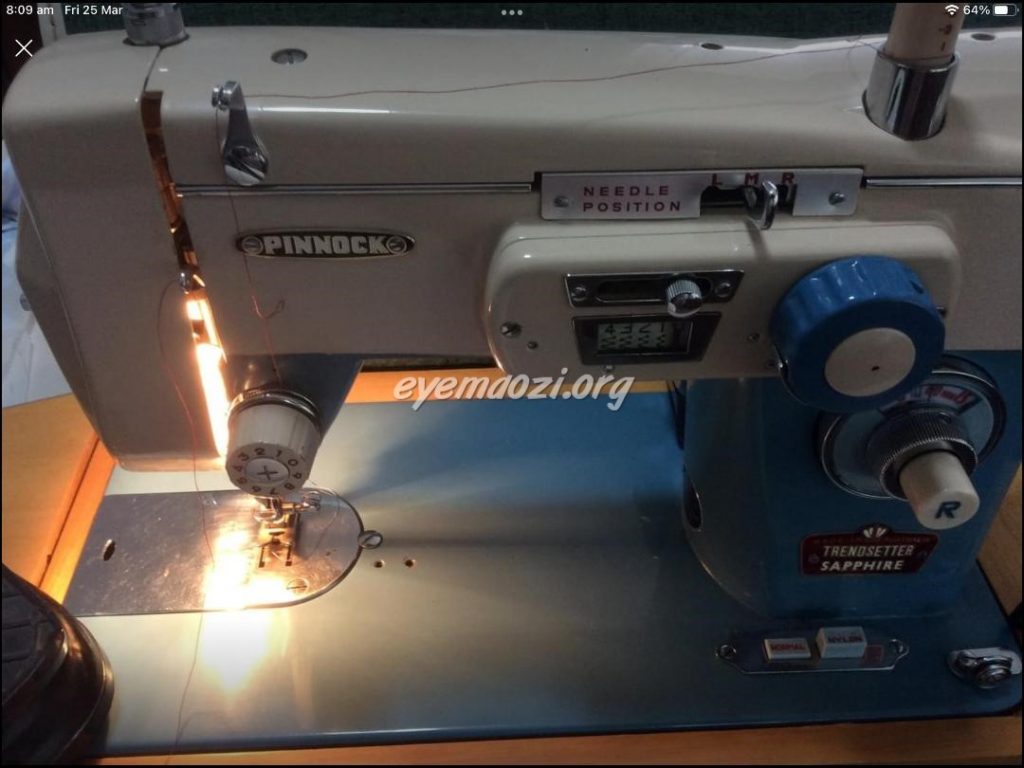 Parts diagram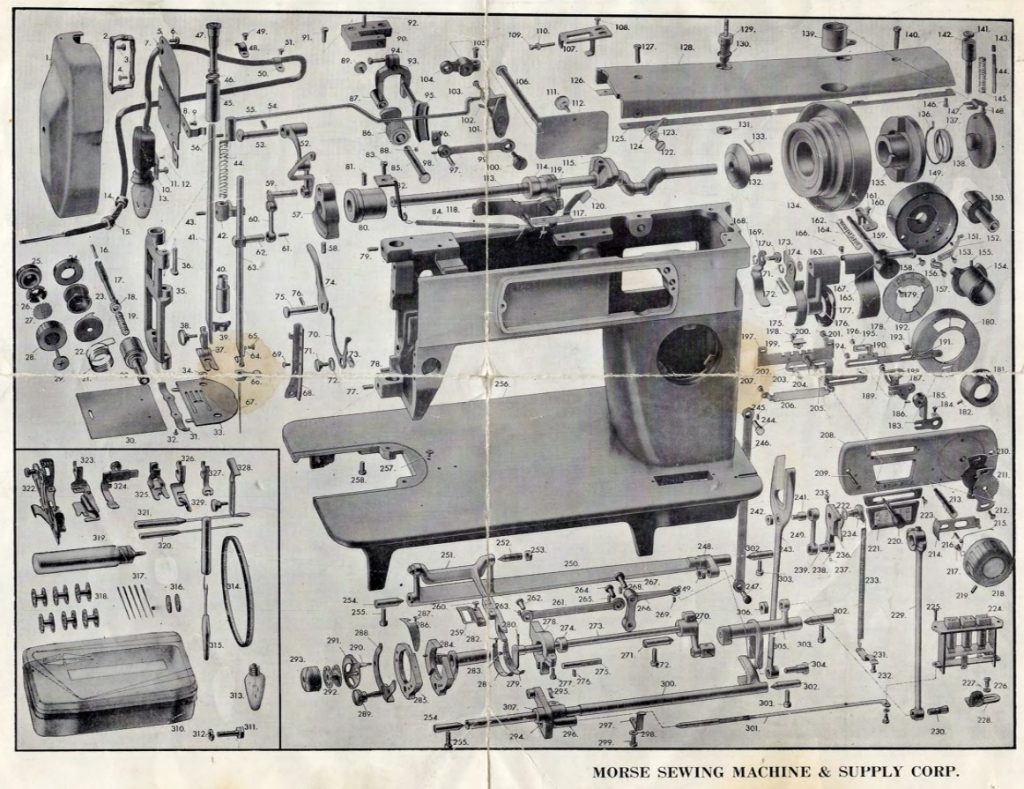 You can download this document as a PDF from here.
Advertising and media articles
Interesting articles can be found on Trove. The following advert from Canberra Times (ACT : 1926 – 1995), Wednesday 24 June 1964, page 7 found at http://nla.gov.au/nla.news-article105767242