Necchi Julia, Automatica, Automatica Mark II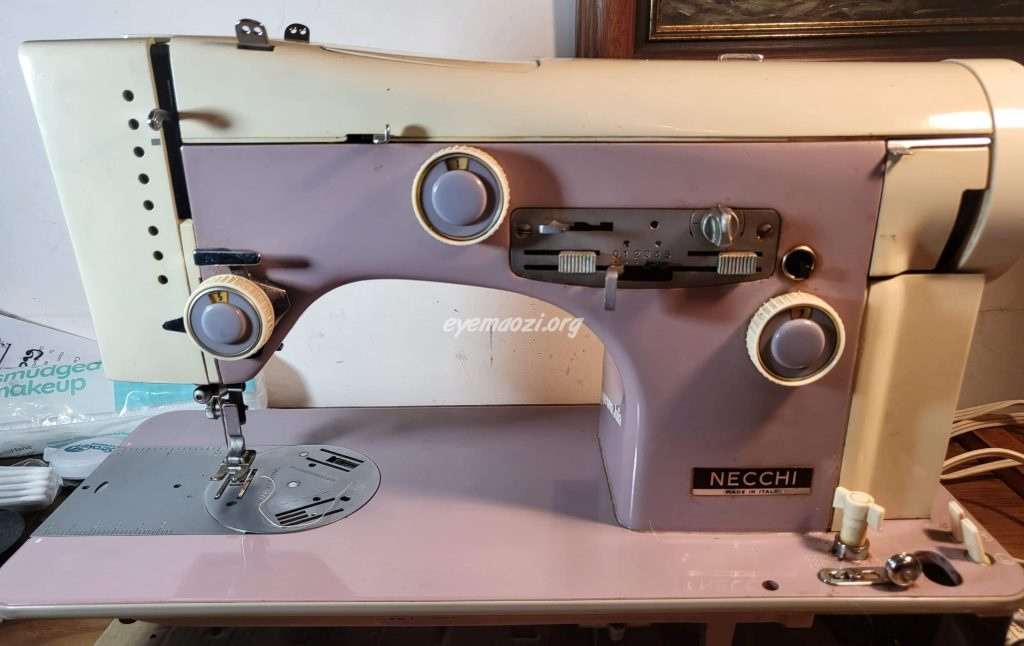 There is so much I don't know about the supernova. So many variations within the one model, it is very confusing.
What I do know is that at first I never thought it was much of a machine to look at. No chrome and shiny parts. Maybe the bower bird in me was not drawn to it, so I steered clear of collecting this machine. I then picked up two in quick succession, going cheap and about to be thrown out. Both grey machines (see below). I tinkered a bit and decided these were beyond my skill level, so put them in the too hard basket.
People kept raving about these machines and how well built they were, wonderful Italian design. So when I saw a lavender Julia machine nearby, I decided one last try at figuring out the Necchi Supernova. I have now discovered that the Julia uses a different cam set to the grey machines, so my cams wont fit, even if I can get the cam function working. So now, 3 incomplete Necchis in my collection. I have striped the older Supernova automatica as it was very rusted, but I was able to use some of its parts for the Julia and Ultra Mark II. With any luck, one day I will have the Julia and Mark II up and running. These models, whilst very similar are different and from what I can tell there are many variations within the Supernova model, something I still have to learn about. There are Supernova experts out there, so I suggest if you want info on the Necchi Supernova, good idea to join a FaceBook group or watch one of the many Youtubes out there.
Supernova Julia 534, made in Italy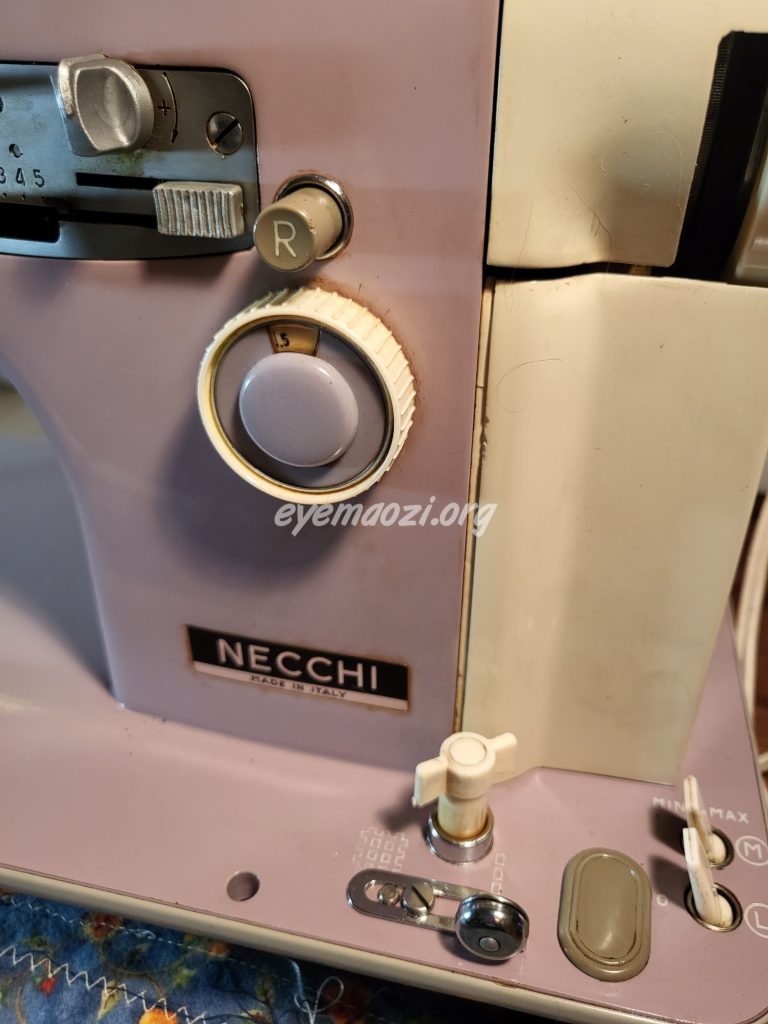 Necchi Supernova automatica, now striped as a parts machine. Made in Italy.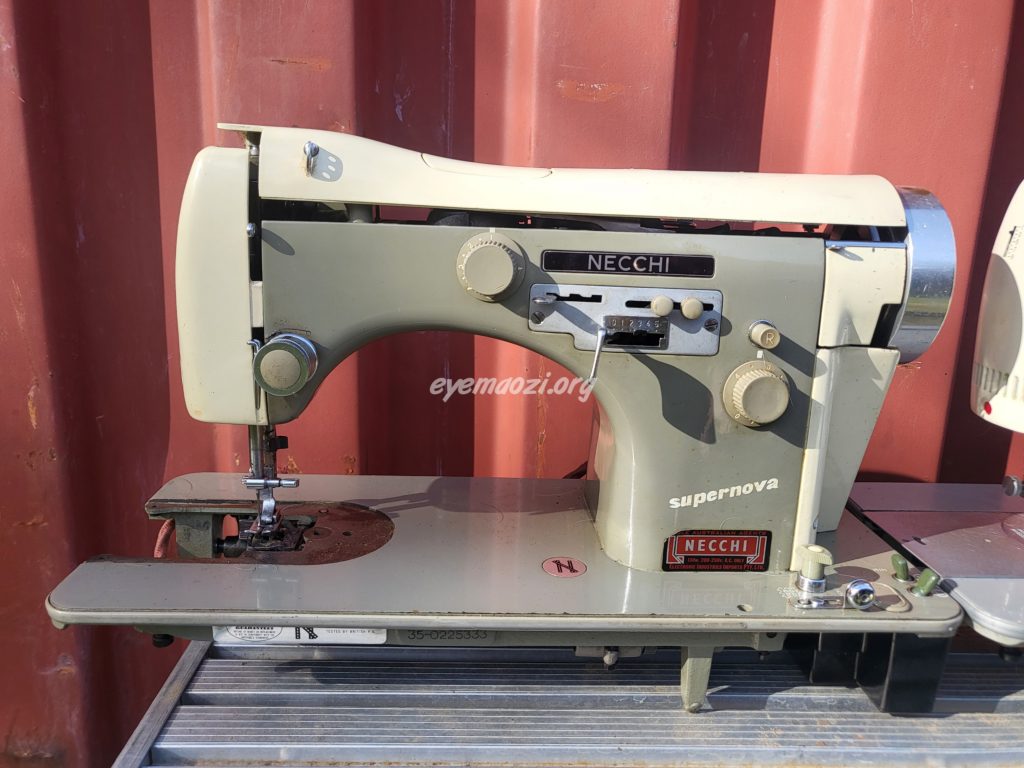 Supernova Automatica Mark II, assembled in Australia, I still hold out hope for this machine.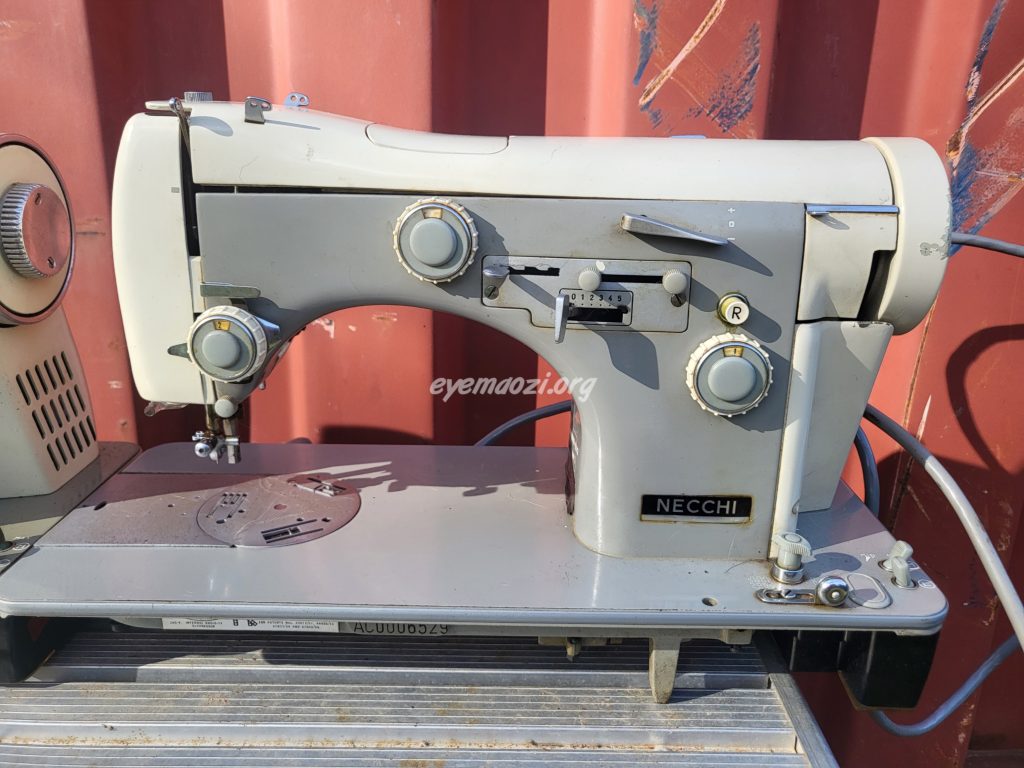 ---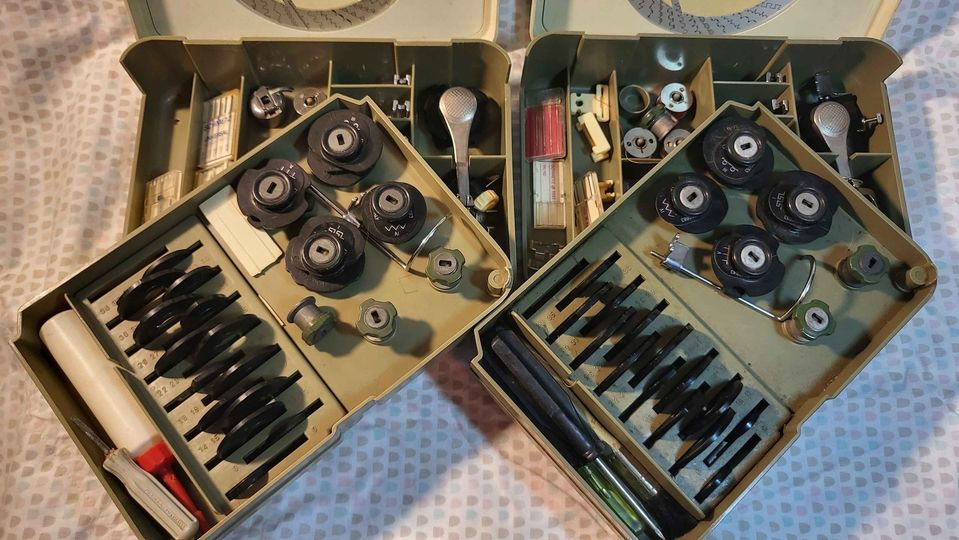 ---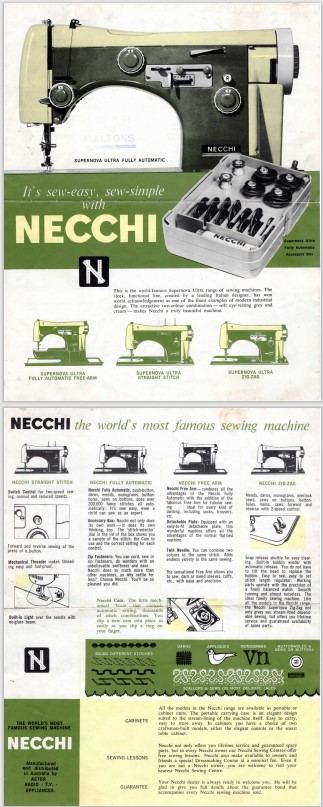 ---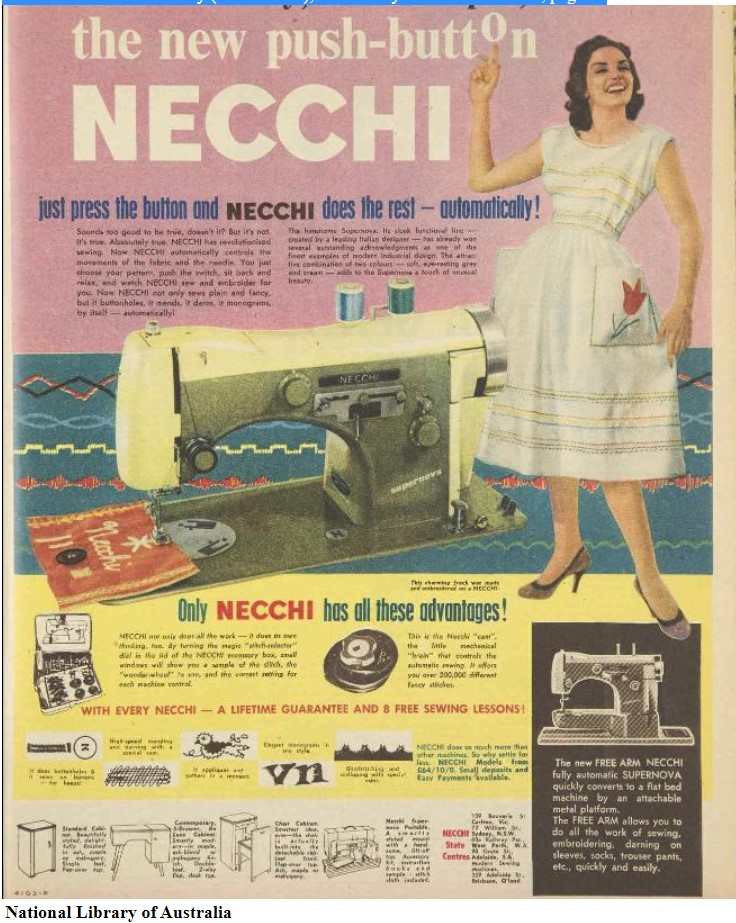 http://nla.gov.au/nla.news-article48208232
| | |
| --- | --- |
| National Library of Australia | http://nla.gov.au/nla.news-article48208232 |
Australian Women's Weekly (1933 – 1982), Wednesday 11 December 1957, page 75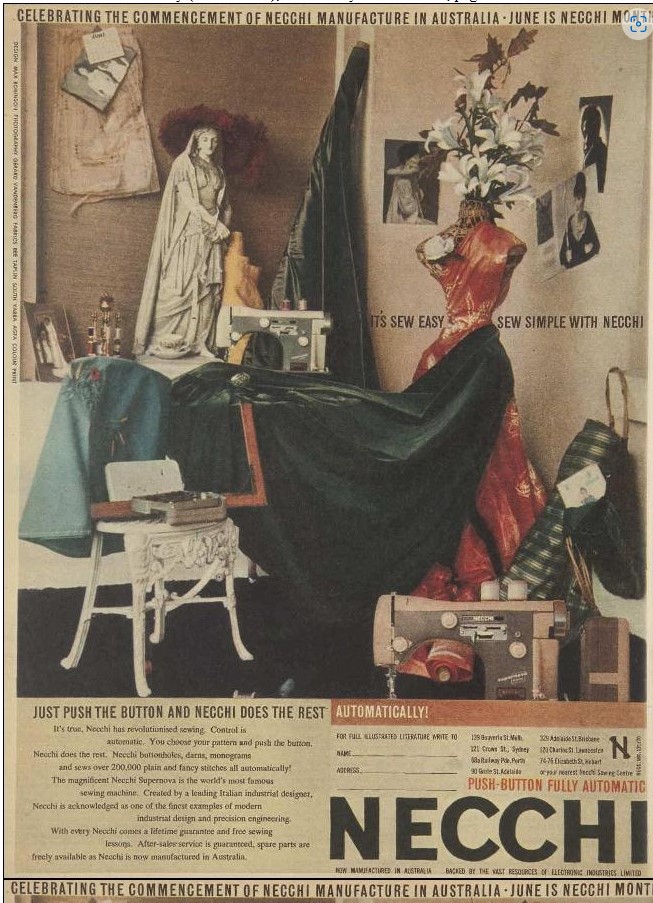 http://nla.gov.au/nla.news-article43597883
| | |
| --- | --- |
| National Library of Australia | http://nla.gov.au/nla.news-article43597883 |
Australian Women's Weekly (1933 – 1982), Wednesday 24 June 1959, page 22
http://nla.gov.au/nla.news-article44796768
| | |
| --- | --- |
| National Library of Australia | http://nla.gov.au/nla.news-article44796768 |
Australian Women's Weekly (1933 – 1982), Wednesday 11 November 1959, page 64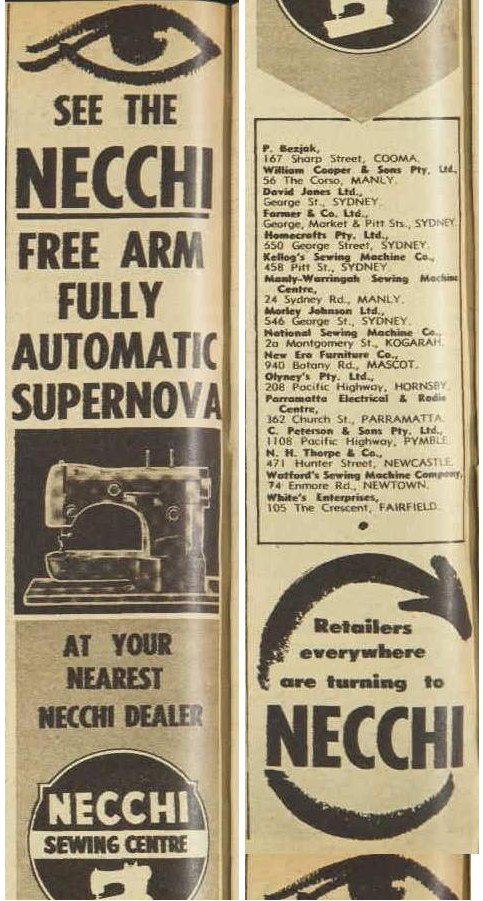 | | |
| --- | --- |
| National Library of Australia | http://nla.gov.au/nla.news-article48530481 |
Australian Women's Weekly (1933 – 1982), Wednesday 4 December 1957, page 10