Brother Lemair Helvetia
circa 1963
Lemair, just like Pinnock, was another company in Australia that imported machines from Japan and rebranded them.
This is a Brother machine, rebranded Lemair Valiant 930.
It was advertised locally and came with many of its original documents, including the original guarantee dated 13 February 1963.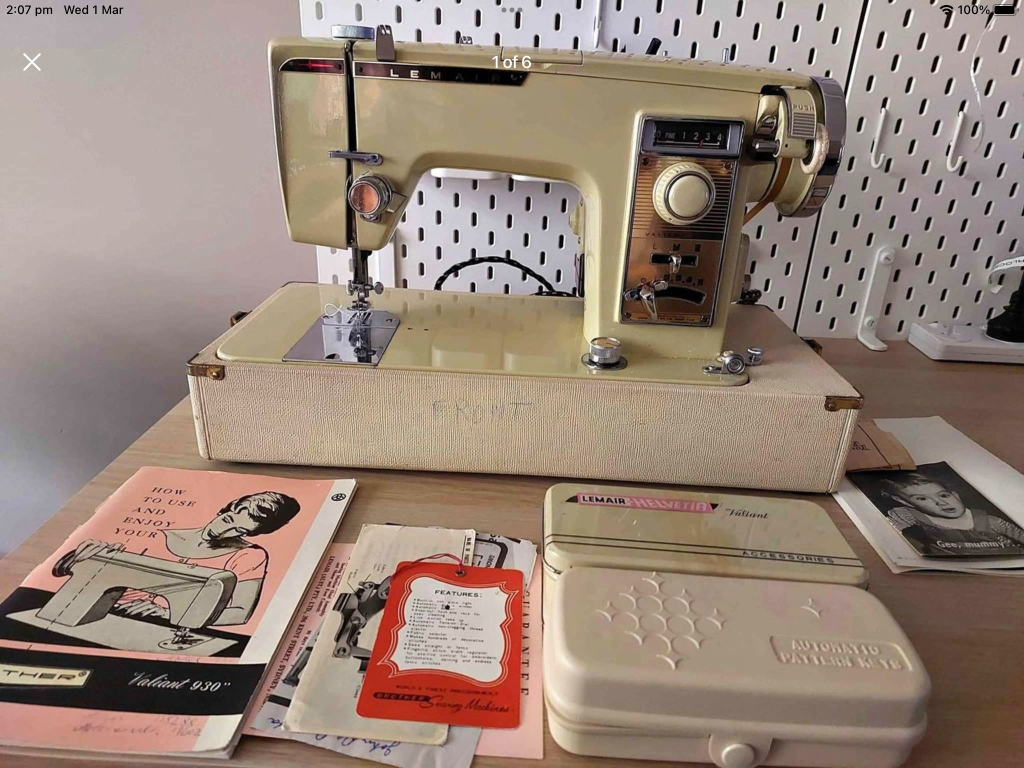 This machine was sold to me by a fellow VSM enthusiast here in Melbourne. It is near new and a true gem. Hardly ever used and complete with pristine set of cams. The cam function works a bit differently to what I have seen before. Instead of a lever to engage and disengage the cam, simply by opening and closing the cam lid, the cam is engaged or disengaged. I did a small test sew and it is still smooth as butter and a real workhorse. The machine is fitted with a Lemair motor, which in fact is the same as a Wernard motor, which is attached to many Japanese imports and the Wernard foot pedal that came with this machine is the less common brown colour.
The Lemair machine in Australia has a facebook following at Lemair Sewing Machines | Facebook
The Vintage Sewing Machines (Non-Singer) | Facebook group also has some wonderful information on Lemair and other models, as well as instruction books for free download.
The instruction book for this page can be found for free on my google drive, free download from here.
These are the photos the seller put online to advertise the machine.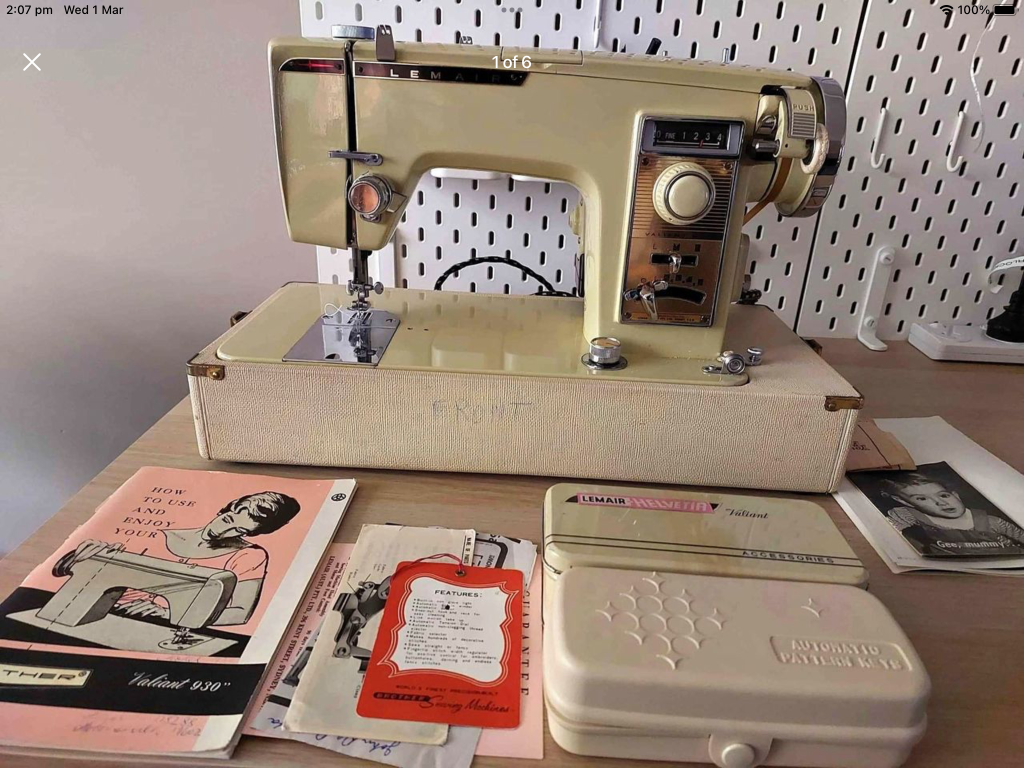 These are the photos of the machine when I gave it a test stitch.
Other sources of information on Lemair.
There is a long list of Lemair machines that can be found at this fandom site. List of Lemair Models | Lemair Sewing | Fandom
This is the list that I can see as at March 2023.
Models Imported from Brother
Lemair Helvetia 18-Cam Automatic (19671119)
Lemair Helvetia 1150 Super Utility Zig Zag
Lemair Helvetia 1200
Lemair Helvetia 1681
Lemair Helvetia 1781
Lemair Helvetia 200
Lemair Helvetia 205
Lemair Helvetia 207E
Lemair Helvetia 450
Lemair Helvetia 454 (19620126)
Lemair Helvetia 460 Super Flairmatic
Lemair Helvetia 511 De Luxe Zig Zag
Lemair Helvetia 604
Lemair Helvetia 606
Lemair Helvetia 641 Charger (19750706-19750810)
Lemair Helvetia 688
Lemair Helvetia 703 Pacesetter
Lemair Helvetia 708
Lemair Helvetia 803 Boutique (19750706)
Lemair Helvetia 875
Lemair Helvetia 930 Valiant Embroidamatic (19640527 – 19671119)
Lemair Helvetia 933
Lemair Helvetia Automatic Zig-Zag (19710103)
Lemair Helvetia Cambridge (19620701)
Lemair Decorator (19670205)
Lemair Helvetia Deluxe Zig-Zag (19740407)
Lemair Helvetia Dial-A-Matic Automatic (19620701)
Lemair Helvetia Embroidaflair (19671119)
Lemair Helvetia Embroidamagic (19710103 – 19710314)
Lemair Helvetia Embroidamatic Deluxe (19671119)
Lemair Helvetia Flairmatic (19600214 – 19600828)
Lemair Helvetia Fully Automatic (19710103)
Lemair Helvetia Gaiety (19671119)
Lemair Helvetia Galaxie (19600828 – 19620211)
Lemair Helvetia HZ 404
Lemair Helvetia New Custom Automatic (19640527)
Lemair Helvetia New Custom Straight stitch (19640527)
Lemair Helvetia New Custom Zig-Zag (19640527 – 19721122)
Lemair Helvetia Pacesetter (Br FZ-2) (19590816 – 19590915)
Lemair Helvetia Riviera (19620121 – 19640112)
Lemair Helvetia Saphire (19600214 – 19600828)
Lemair-Helvetia Special (19600214 – 19600828)
Lemair Helvetia Surrey (19620121)
Lemair Helvetia SZA-307-F
Lemair Helvetia SZA-708 Embroidamaster (19671119 – 1973)
Lemair Helvetia Zig-Zag Deluxe (19710314)
Models Imported from Helvetia