A Kamasan painting purchased online. No frame, measures 45cm x 45cm. No provenance.
The cloth feels more like canvas and is rather stiff.
circa?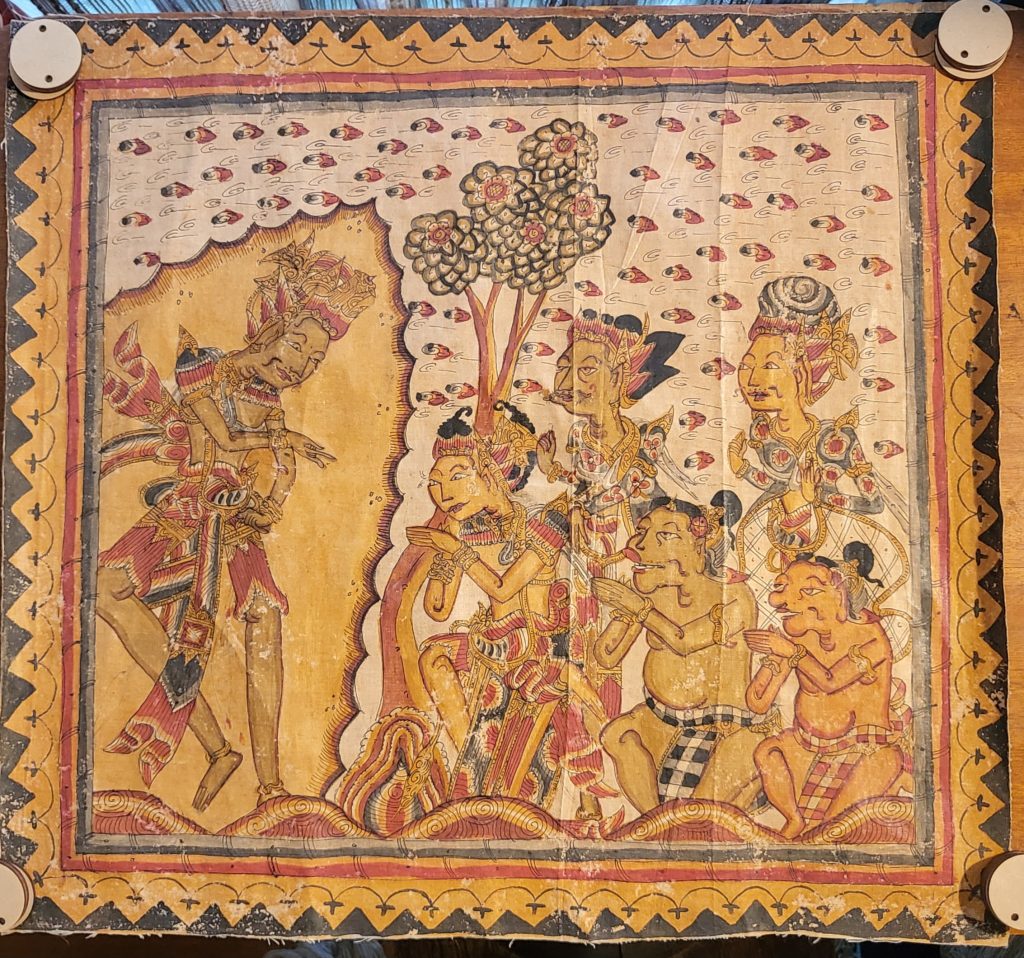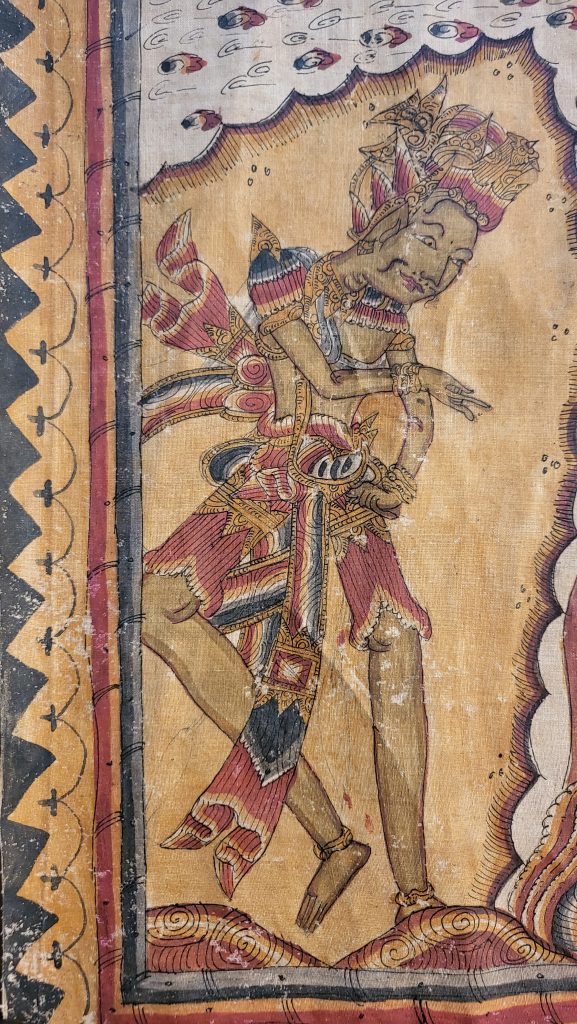 ---
Ubud Painting.
Ooops I did it again. I really liked this painting when I saw it in the upcoming online auction. I put in the opening bid. I then looked at the measurements and got a shock. If I won this, there was no way I could fit it in my car to bring home, let alone have a free wall big enough to hang it. Still surely, I would be outbid come the day of the auction. Advertised as Extra large Balinese painting depicting market festival. 287 x 136cm. The hardwood frame appears 1970s or 80s.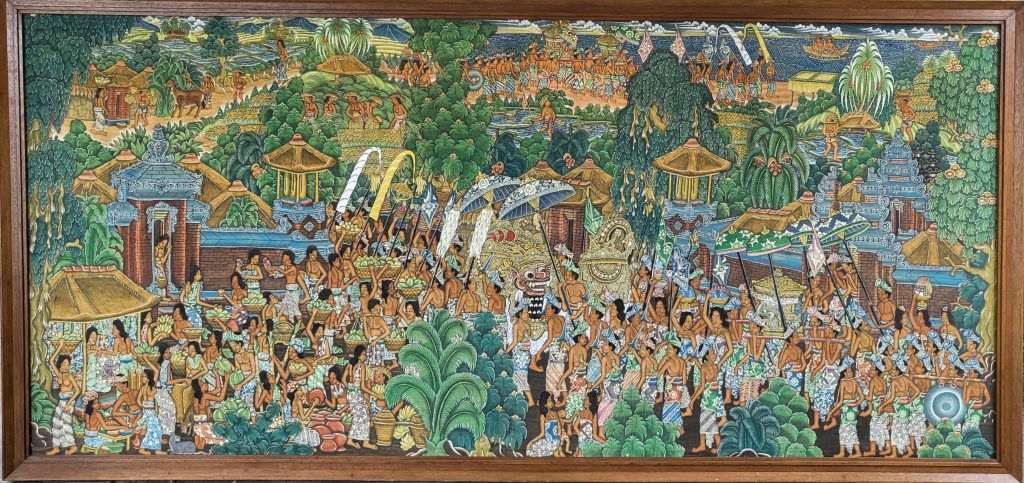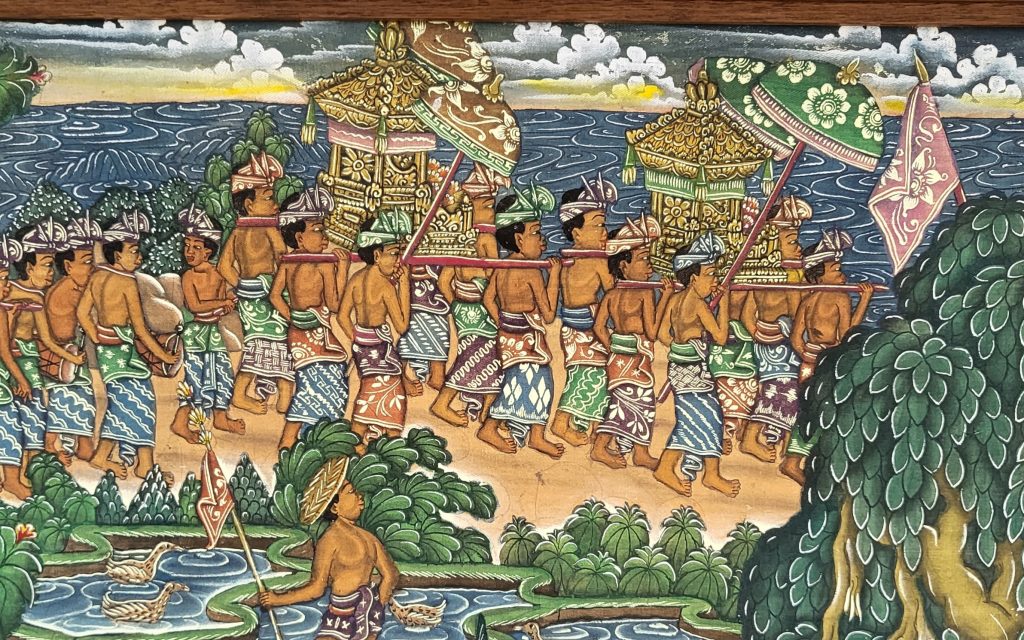 Luckily or unluckily for me I won the auction with only the opening bid. Then luckily I had someone at the auction house volunteer to deliver it. Unfortunately I have nowhere to store a painting this size, but I hope one day to display it. So I have removed the frame and carefully rolled it up for safekeeping. It has no makers mark or signature, so apparently of no interest to anyone else. But I think it is beautiful. Every time I look at it I see some other detail.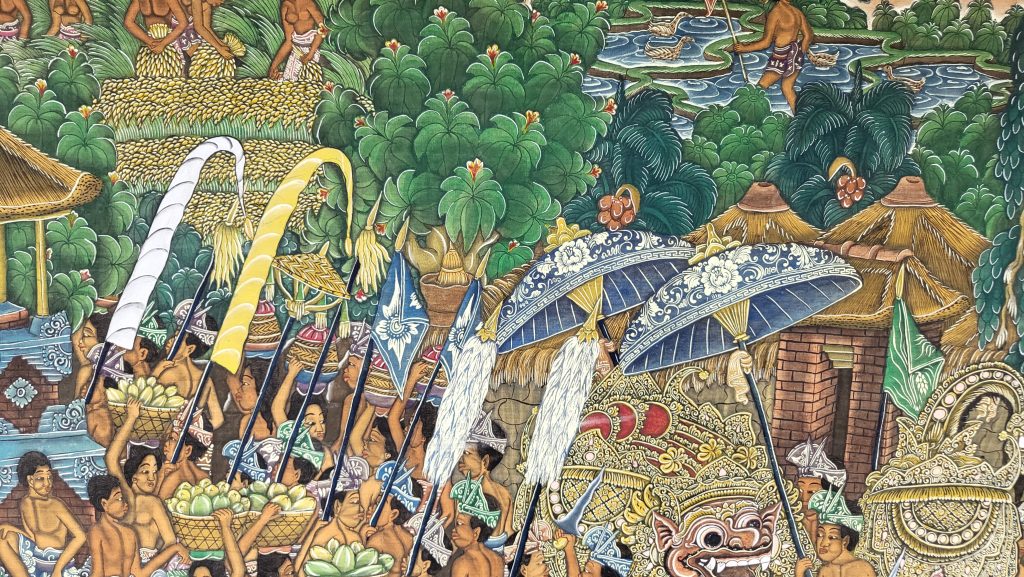 ---
Two older Kamasan paintings.
Two very large paintings purchased locally. The seller said they were from his uncles deceased estate and that his uncle at that time lived in Perth and travelled to Indonesia regularly. I would describe them as more slap stick with the added colouring being not too precise. Either way I do love them. Alas they are too big for me to display at the moment, but I hope one day to have them framed.
This one measures 130 x 127 and made from two peices of fabric joined in the middle on the horizontal line.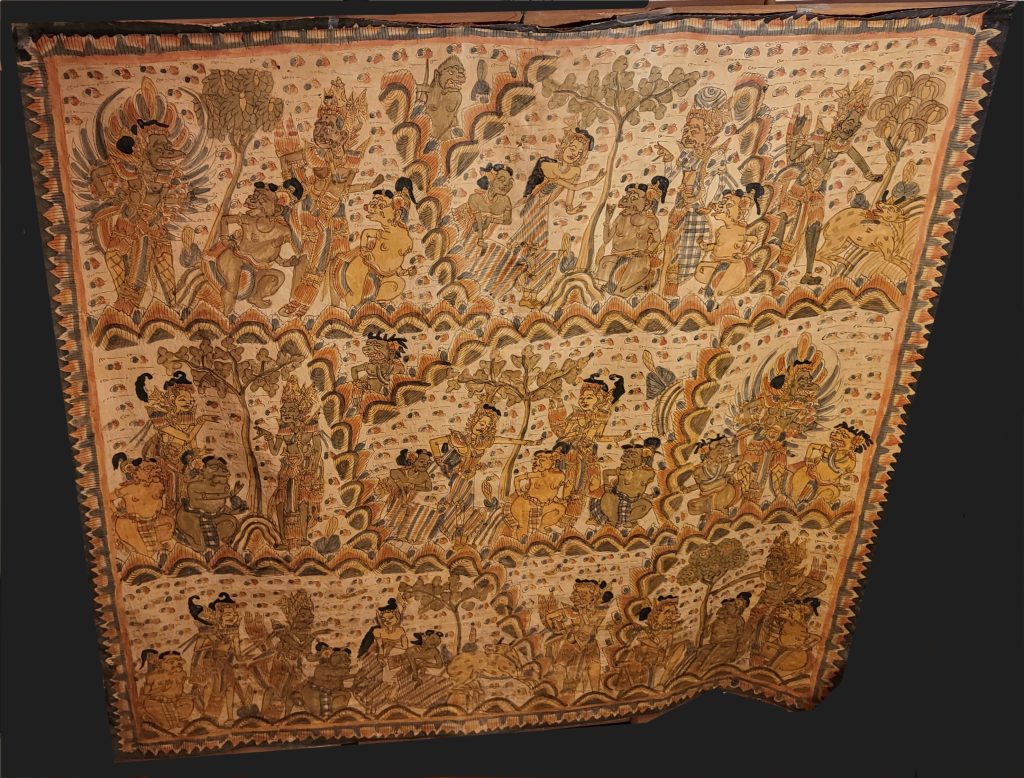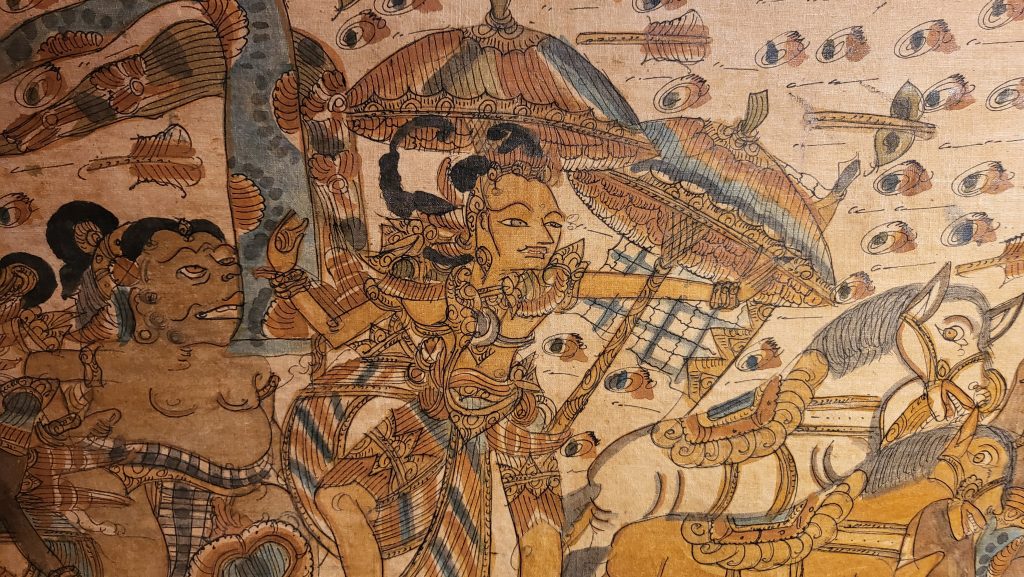 ---
Unknown Indonesian paintings
A pair of paintings I purchased online. From Tasmania of all places. No signatures, very basic style. I still have to investigate these.
Each painting measures 75cm x 45cm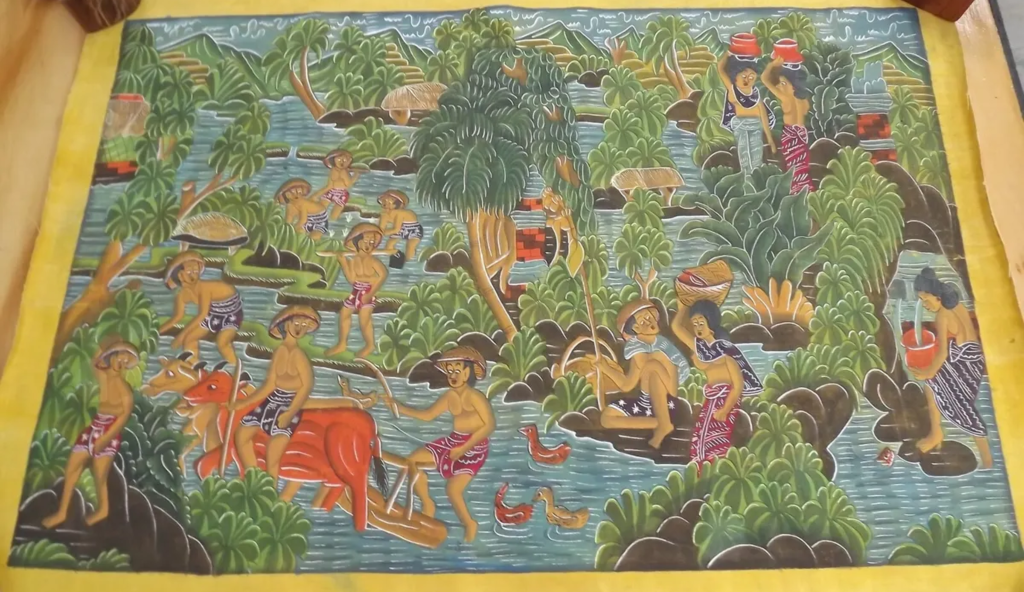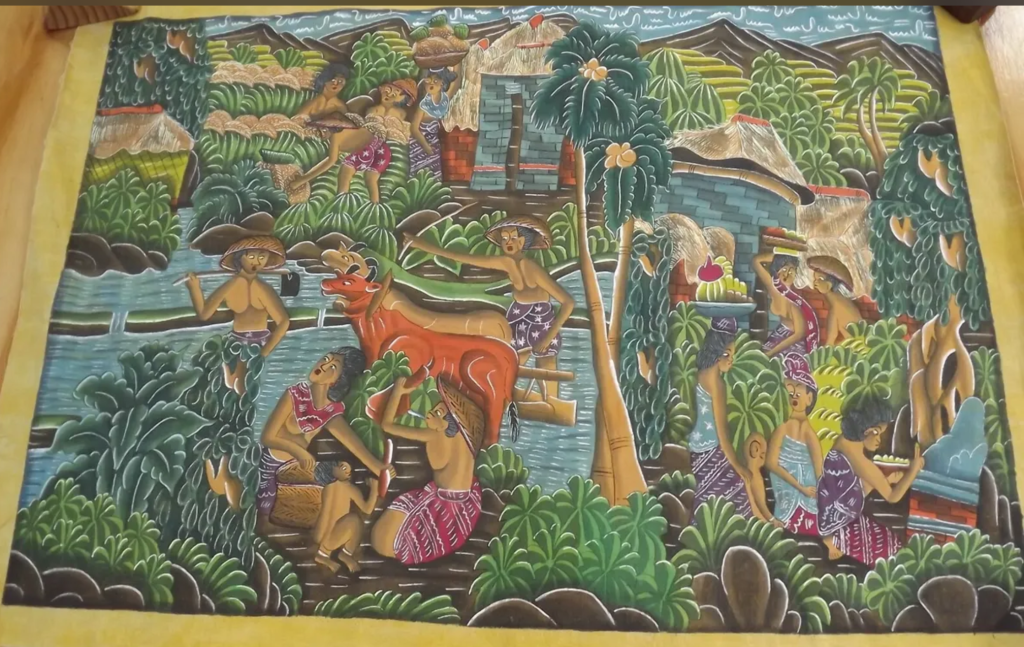 Painted on an unusual yellow fabric. I have seen similar paintings being auctioned online, but I have not found any provenance for them.
---