Necchi Free arm
Circa late 19050s or early 1960s.
July 2023 , I travelled over an hour to the other side of Melbourne to collect this machine. It is a rare free-arm and I have not seen another for sale near me.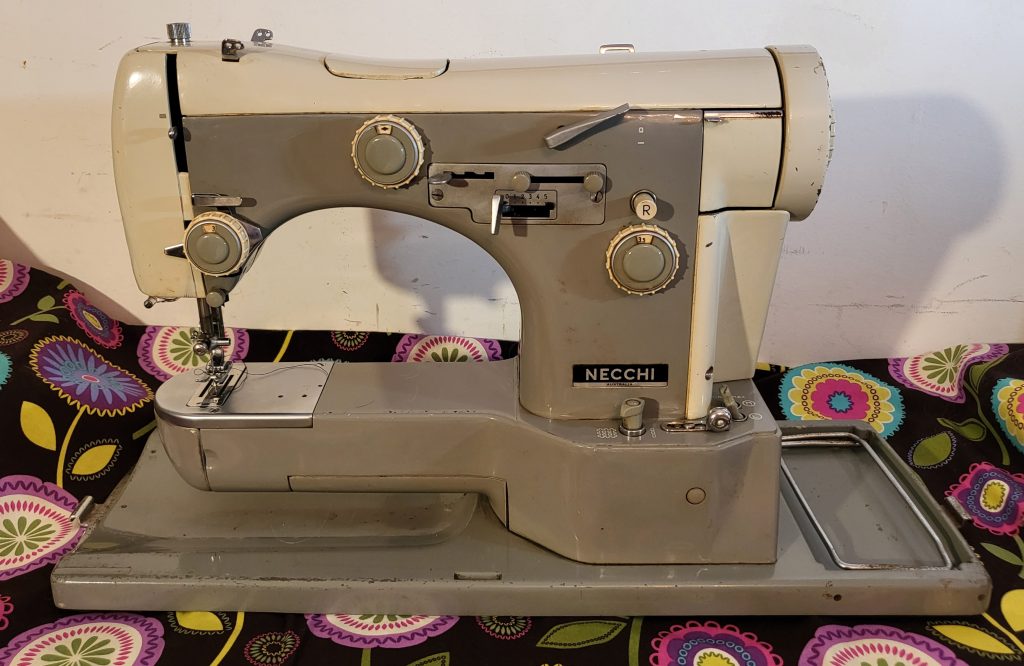 Work in progress
How this machine came to me
July 2023, I saw this machine advertised as complete and recently serviced. I have sworn off adding more machines to my collection. I had also sworn off Necchis, but if this one was serviced then I should be o.k. I contacted the seller and committed to buy. Sight unseen. I know enough now to know which machines will be snapped up straight away if I don't act fast and I had a feeling that this was special. Due to work and family commitments I had to wait a week before I could collect.
When I got there I was told that the machine had been donated to the Wollert Seniors sewing group and that the woman who donated it had said her father had imported the machine to Queensland and she was the original owner. The "service" I then found out was performed by the husband of one of the members, he had plugged it in, checked that it stitched and that was as much of a service as it got. Oh well, never mind, I still wanted the machine regardless.
Condition
The machine does sew a nice straight stitch. The cords are good and the motor sounds fine. The zig zag is partly frozen, so I need to work on that. I wont be able to test the cams until this is done. Nothing else on the machine appears to be damaged or broken, so that is wonderful. It came complete with case, removeable table, wernard foot pedal and cord, instruction manual, service manual, accessory box (somewhat damaged) and most of the contents intact. Four removable small rectangular stitch plates, to change in and out as sewing dictates. There is a second zigzag plate but it has a missing clip, so I suspect this must have happened close on 60 years ago, as today it is impossible to find or purchase this spare part.
The manual for the machine can be found on my google drive and downloaded for free from here, Necchi Supernova Mk 11.
The service Manual for the Free arm automatica Supernova can be found on my google drive here.