I acquired both of these paintings at my local auction house. Both are signed but hard to decipher.
Painting on ink. This one caught my eye, it is full of action and clearly pre 2000. Monkeys, beautiful women, Nymphs, Dear like animals. I do not understand the story of symbolism of this painting, but I must say it is one of my favourites to date. There is a bit of wrestling going on (wink wink).
It had plenty of dust on the frame and I can only guess at its date as late 1900s.
It has a very faint pink signature on the bottom, under the right side blue monkeys bottom. I can only just make out "M. NY." possibly "M"…. then maybe "wan" at the end. Clearer is Ubud Bali. It is more than likely M is for Made (being a common first name) and Ny if for Nyoman, but as for the surname I have no idea.
Painting measures 47cm x 67cm and has a lovely wooden retro frame.
The second painting or more precisely "ink on paper" in the auction was this one. At first I was not going to bid as the faces on figures seemed crude, but I am glad I did eventually give in and bid. It is much nicer in real life.
Framed under glass and framed pre 1996 as the sticker of the framers indicates the phone numbers in Melbourne before the digit change. Measures 51cm x 41cm.
Signed in two spots. in two different pens. One hidden in on the side within the brickwork and once more clearly center bottom. First line is possibly in Indonesian as it does not appear to be Western lettering. NGK. MD is as close as I can get it. Then NENGAH followed by SUDARMA. The central signature starts the same and ends with SURADAR MA?? I have found that Nengah Sudarma is quite a common name in Bali, so i may never find the artist.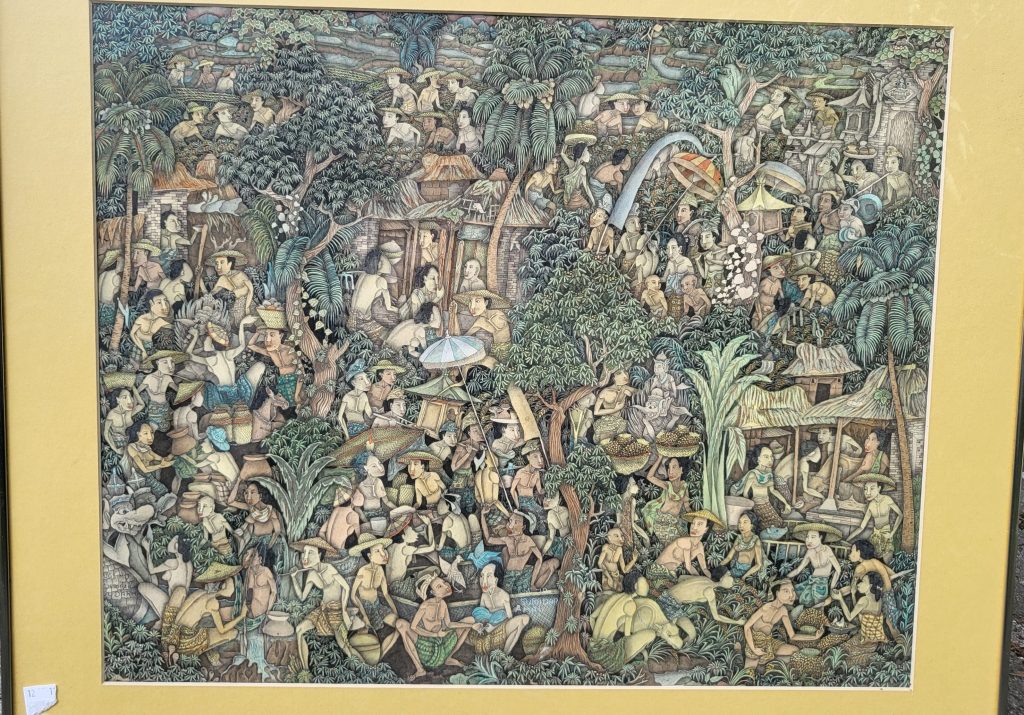 Ubud Oil on canvas M. Ny. M…. Ubud, Bali.
Ink on paper