In July 2022 I purchased this painting from an auction house in Melbourne. It measures 121cm x 147cm. For a few short months I was the owner of a masterpiece, but I did not know it. There was a signature on the back and I was determined to find the artist. To see more about that painting and its journey please go to my Mangku Mura page.
September 2022 I returned the aforementioned painting to the wonderful artist Mangku Muriati. Such a beautiful woman, she and her sister welcomed my friend Putu Agoose and me into her home. We sat and chatted for quite a while. Well, I sat there and let Putu chat and every now and again he would tell me what was going on. When I returned the painting to Muriati I had hoped she would sell me one of her paintings and I was not disappointed. She was happy to do so and I let her choose for me, as that way it would be more special to me.
This is the video I took at the time, please excuse my awful voice. Muriati explains the meaning of the painting and Putu translates it. I have since had this painting framed in the remnants of the broken frame of the Mangku Mura painting. It has pride of place in my house.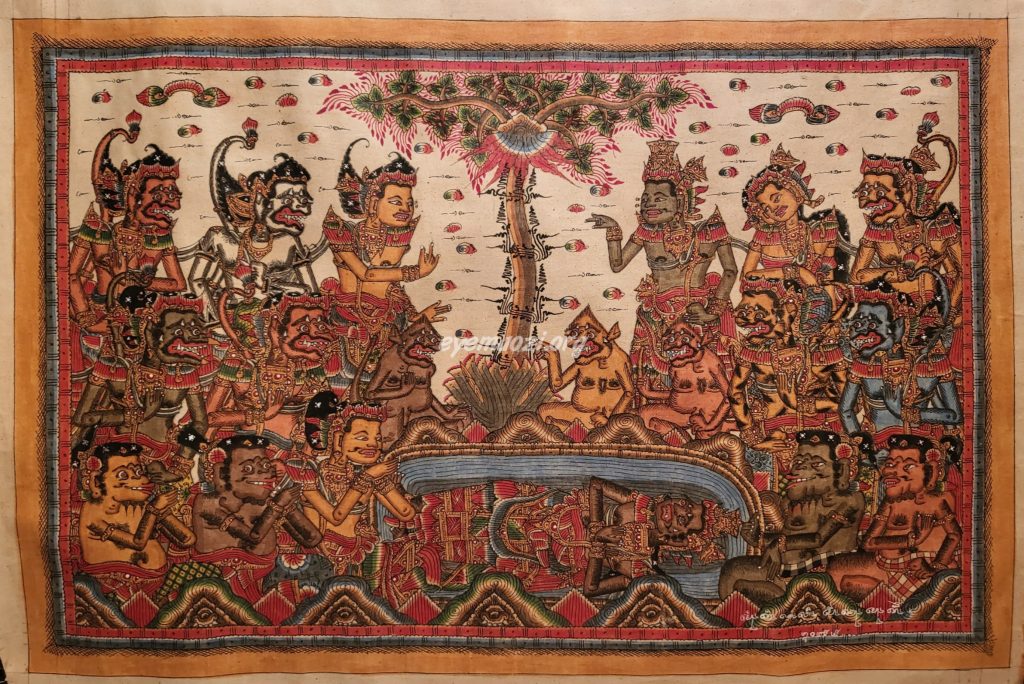 Mangku Muriati, in her home, surrounded by Kamasan paintings. Her address is Banjar Siku, Desa Kamasan, Klungkung, Bali, Indonesia. Her lovely sister brought us refreshments and cake. Beautiful women and I hope to return there one day.
More information on Mangku Muriati can be found at Mangku Muriati – The Australian Museum
Just before we left Mangku Muiati showed us with pride, this article about her father. This other photo, I found online of her painting at some point in the past. She is still an avid artist and during the Covid 19 Pandemic she painted depictions of nurses and people wearing masks as she documented the story of the pandemic and its affect on her culture and people. Her works of art are on display at gallery's in Bali including UBUD, however I did not get the opportunity to visit any of these.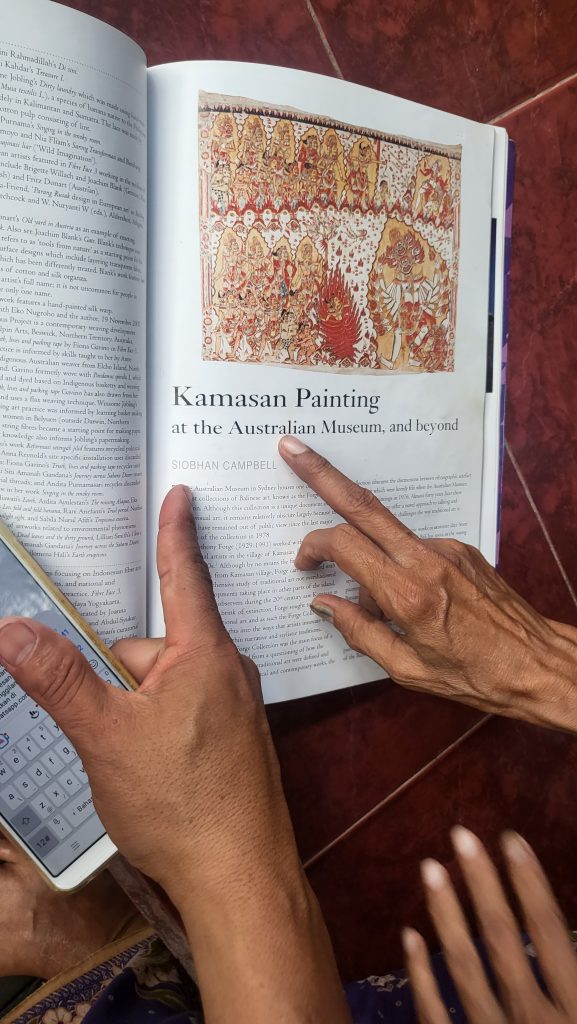 ---